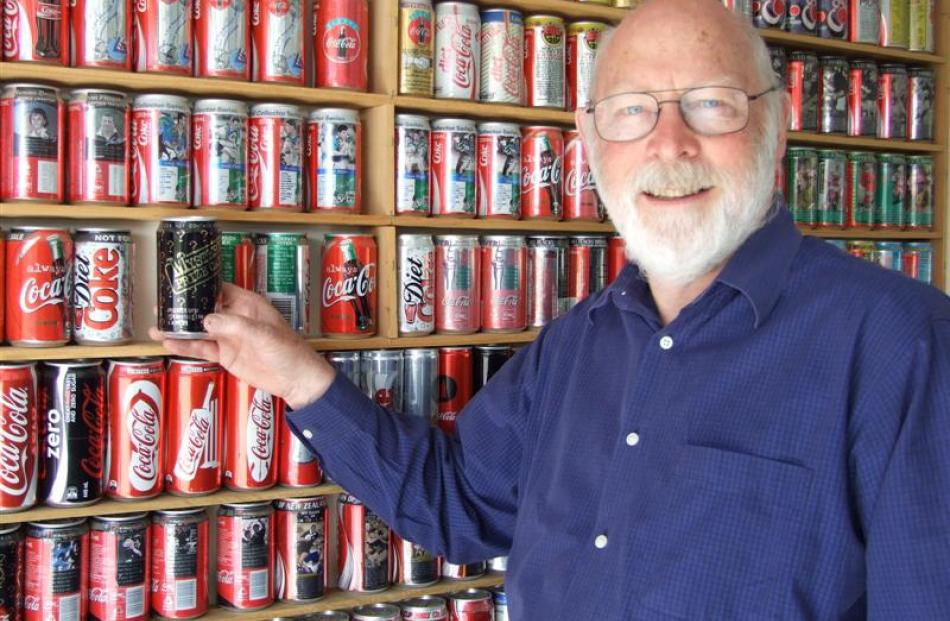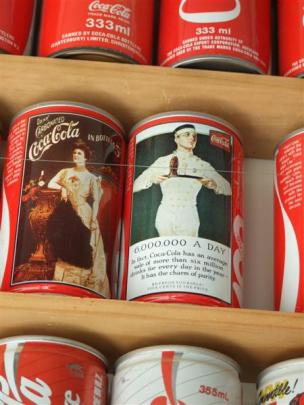 Rory Butler is a Coca-Cola can connoisseur.
Show him a can with the familiar logo, and he can tell you its history - where it was produced, what year and how many cans in that particular series.
His knowledge was gleaned over a several decades collecting an assortment of 9000 cans from all around the world - almost two-thirds of the various cans produced by the company.
The Alexandra man, best known to Alexandra and Clyde residents as the affable president of the Promote Dunstan group, is quick to admit that the collection became ''an obsession''. Displaying them took too much room, so he divested himself of all but the New Zealand-produced cans.
''I had them out in the garage but the last thing I wanted was to be one of those people - and there are some - who have the cans displayed wall-to-wall inside, as well. To me, that's awful, so I decided to scale down and sold off my collection in two-dozen lots to other collectors from all around the world.''
Mr Butler started the hobby when he was living in Palmerston North, after he left his teaching career to work from home, writing computer software for schools.
''Chris [his wife] said 'You've got to do something else to take your mind off work.' I saw a Mickey Mouse Coke can and the Citizens' Advice Bureau put me in touch with a beer can collector whose son had Coke cans. He gave me six dozen cans, a mixture of beer and Coke cans and that's where it all started.''
Mr Butler added to his collection on trips overseas. Each country produces a different range of Coca-Cola cans and regular promotions unique to those countries also boost the variety.
The cans come in different sizes and shapes, the ring tabs can also vary and a myriad of faces, characters, items, events and sporting codes adorn the exterior.
Christmas scenes, classic advertisements for Coca-Cola, one of which uses ''the charm of purity'' in its spiel, ''rising stars'' like a young Danyon Loader, and photos of All Blacks in action grace the cans.
''That particular All Black series had six cans but some tear tabs had `All' written above them and some had `Blacks' so that meant you had to get all the variations. I got the caretaker at Massey University to save me the [trashed] cans so that was how I got the full array, plus extra sets to trade,'' Mr Butler said.
Limited edition cans included one recording New Zealand's World Rugby Cup winning effort last year.
Cans were first produced by the company in New Zealand in the 1960s. Then they were made of steel, but have changed to aluminium over the years.
After moving to Central Otago, Mr Butler was walking near the gates of the Clyde Cemetery one day when he spied a can under the root of an old tree.
''I fished it out, brushed the dirt off it, and it turned out to be one of the first Coca-Cola cans released in this country, so that was lucky.''
To keep the top of the cans in pristine condition, collectors drain cans through a hole punched in the base.
''I used to drink the stuff, but you pretty quickly realise how much weight you gain if you keep that up, so I don't really drink it at all now.''
The most he has ever paid is $150 for a set of four cans, or $80 for one can on a couple of occasions.
The value of his 300-strong collection of all New Zealand-produced cans is ''whatever someone would pay for it'', he says.
''I guess you'd sell it for about $1500, maybe.''
Although he maintains and updates the collection as new series of cans are issued, Mr Butler's focus these days is more on stamp collecting.
He inherited his mother's extensive stamp collection when she died in 2003 and used the proceeds from selling most of his cans to buy stamps.
''This has a real sentimental value to me because it was my mother's. Stamp collecting is far more involved than collecting cans and more people do it. The international market is huge.
''You get mint and used stamps and sheets of them and then there's always new releases coming out.''
They were easier to display and took up less room, he said.
However, there was still the ''thrill of the chase'' in tracking down a stamp which completed a particular series.