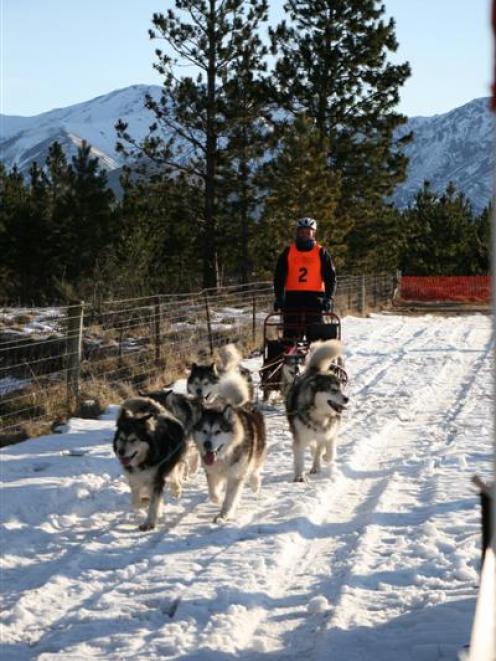 There were more dogs than humans at the Central Otago sled dog race at Naseby Forest at the weekend.
About 150 dogs and more than 60 people took part in the two day forest sled dog race in the Maniototo, organised by the Otago Sled Dog Racing Association.
Both days involved race heats with teams of two to eight dogs and one ''musher'' on wheeled rigs, as well as races involving mountain bikes, scooters and runners, all pulled by dogs.
On Saturday, St Bathans resident Tania Spencer, who completed the two dog rig class race with Siberian huskies Mosin and Nova, said the race was ''so much fun''.
The track was quite bumpy with ice and a little bit of snow, but you had to trust the dogs because they knew where to ''dart between the icy bits''.
Invercargill resident Daryn Chalmers finished a six dog rig class race, with Cruz, Rusty, Thor, Bruse, Kelsa and Ethan, all mixed breeds.
It was his first ''real racing season'' and he loved it, he said.
In the top spots of the 13km rig races was Nigel Voice (eight dogs), Daryn Chalmers (six dogs), Rose Voice (three dogs), and Lloyd George (two dogs). In the 7km rig races were Paul Maydon (six dogs), Aaron Anderson (three dogs) and Tania Spencer (two dogs).
Organiser and association secretary Rose Voice said both days were fantastic, combined with ''ideal conditions'' making it ''sled dog heaven''.
Mrs Voice raced with her ''rare'' Canadian Eskimo dogs and said racing meant putting ''a lot of trust'' in the dogs. She had received ''absolutely fantastic'' feedback from spectators and participants, and was already planning next year's race.
They plan to have more space for spectators to come and watch and a coffee cart to make it ''much more accessible'' for everyone.
Other results: 7km two dog scooter: Kim Wilson; 4km one dog scooter: Alan Aitken; 7km Bikejoring: Stephen Potter; 4km and 7km: Canicross David Fosbender.