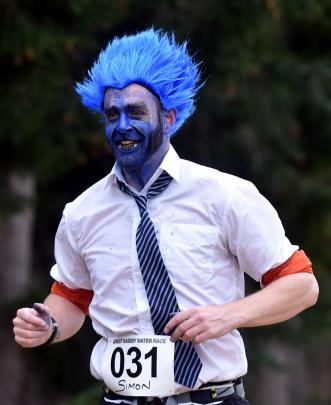 "Only another 15 laps to go",  a runner calls out cheerfully as the first lap of  an endurance event spanning 100 miles (160km) is completed at Naseby.
"They're all nuts, but they love it," Great Naseby Water Race organiser Jamie Sinclair comments matter-of-factly as the 43 athletes who lined up for the gruelling ultramarathon finish the first lap. 
Runners in the 160km race  started at 10am yesterday  and were set to run  through the night, completing the race some time today.
Competitors run around the 10km loop course, half along a gravel road and half on a track through the Naseby Forest, beside a water race which supplies water to the forest and to Naseby.
Today  the shorter distances will be raced.  Fourteen entrants are competing in the 100km distance, 17 in the 80km and 33 in the 50km.
They begin at 5am  and will race along the same course as the endurance event.
The water race is in its 10th year and it is the fourth year the 100 mile event has been included.
The weather was ideal for running yesterday as the endurance event began — about 10degC and a light breeze, Mr Sinclair said.
The forecast for today was snow down to about 500m, "so that'll make things interesting".
Set by Christchurch runner Marty Lukes in 2013, the record time in the 100-mile race is 15hr 30min.
Some competitors last year took more than 30 hours to finish the event.