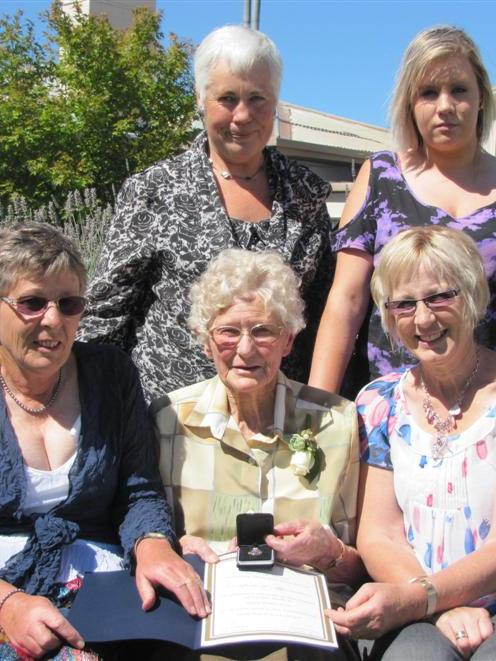 Almost 70 years after she served as a land girl during World War 2, Evelyn Scott has been recognised for her efforts.
Mrs Scott, of Cromwell, was yesterday presented with a New Zealand Commemorative Veterans Badge and Certificate of Appreciation by Waitaki MP Jacqui Dean.
The 86-year-old Ripponburn resident said she was proud and honoured to receive the award, one of only 29 to have been given since they were introduced last year. Recipients of the badge had to have served New Zealand in a war or emergency. Her certificate said it was for service to New Zealand during World War 2 as a land girl.
Mrs Scott joined the New Zealand Women's Land Service when she turned 18 in 1942 and went to work on her father's Middlemarch farm. Her duties included mucking out the pig sty, working in the shearing shed and milking cows, often until late at night.
"I enjoyed the work, even though I worked hard."
She worked on the farm until the war ended in 1945.
The service was set up by the government in 1940 to meet a shortage of farm labour caused by men enlisting.
Mrs Dean said Mrs Scott was only the second land girl to receive the award, the other being a Marton woman whose story inspired Mrs Scott.
"Evelyn is obviously a get-up-and-go lady. She read in the paper that a former land girl was being awarded a medal for her service by her MP and she thought, `right, I, too, was a land girl who served in World War 2. I wonder if I can be rewarded in this way?'
"I hope to see her wearing her badge at Anzac Day, if I'm over this way," Mrs Dean said.
Other women who served as land girls should contact her if they too wanted to be formally recognised, Mrs Dean said. However, because of the length of time that had passed, there were probably not many still alive, she said.