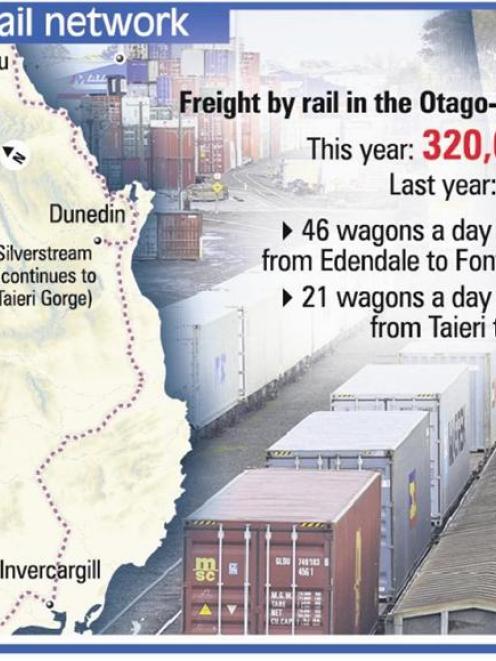 KiwiRail wants inland freight ports back on the Otago regional transport agenda as it pushes for a larger share of New Zealand's domestic freight market.
The state-owned enterprise has asked council planners throughout Otago to consider compatible rail options as the idea of inland freight ports becomes more attractive to logistics service providers.
Inland ports are facilities where goods are moved between road and rail.
KiwiRail network general manager Rick van Barneveld has backed several proposals in the Otago Regional Council's transport strategy providing for greater use of rail to transport freight around the region.
KiwiRail recently formulated a "turnaround plan", reviewing its predominantly freight-oriented operations, as it bids to enlarge its slice of the domestic market.
Rail has endured a lean period recently and the plan was a "last drop of the dice for rail in New Zealand", Mr van Barneveld said.
More could be done to ensure council regulatory planners among the region's six territorial local authorities provided for rail options when considering applications for the use of land as future freight hubs, he said.
Council planners from the Waitaki and Clutha district councils and the Dunedin City Council say their respective district plans have some provisions for the development of inland ports.
Inland ports have already been created at industry-specific freight hub sites in Otago, such as Fonterra's purpose-built operation at the former Fisher and Paykel factory in Mosgiel.
However, Port Otago chief executive Geoff Plunket remains sceptical demand for inland ports exists in the region, given there is little congestion on State Highway 88 to Port Chalmers.
For short-haul "point-to-point" trips, road freight was still the most cost-efficient means of transport, he said.
KiwiRail Southern region spokeswoman Cathie Bell said the organisation increased its Otago operations from carrying 150,000 tonnes of freight last year to 320,000 tonnes this year - a surge attributed to growth at Fonterra's plants at Edendale in Southland and North Taieri, she said.
After Fonterra boosted its capacity with a fourth milk powder drier at its Edendale plant, the amount of freight KiwiRail carried to Taieri doubled, she said.
Fonterra's increased use of rail freight was an indicator of how successful logistic partnerships could be established, Mr van Barneveld told ORC transport committee members recently.
Large-scale forestry operations around Mosgiel and Milton also accounted for a "significant" share of KiwiRail's existing national freight market, he said.
Rail freight provided the most efficient way of servicing large container ships visiting New Zealand, Mr van Barneveld said.
- matthew.haggart @odt.co.nz