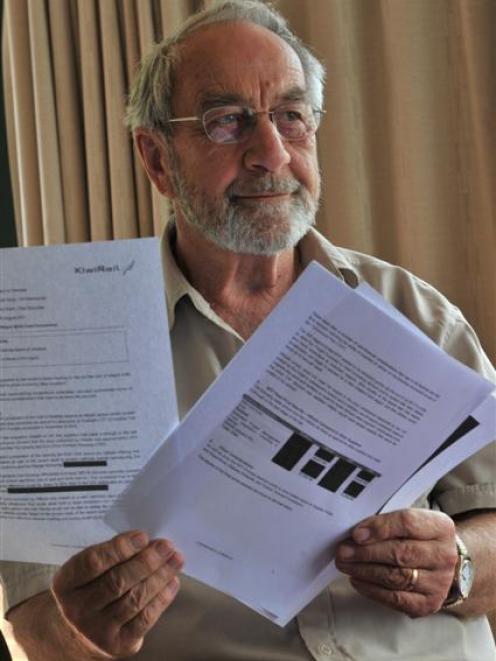 A Dunedin man who started his career at Hillside claims there is something fishy about KiwiRail's tendering of 300 wagons to a Chinese company and has launched his own investigation into the deal.
Trevor Hislop (77), of Roseneath, started an apprenticeship at Hillside Engineering Workshops when he was 17.
He spent five and a-half years working on steam locomotive construction at the South Dunedin facility, and said he helped build the JA locomotive now on display at the Toitu Otago Settlers Museum.
Mr Hislop said it appeared KiwiRail had something to hide in relation to the wagon tender and he had lodged a formal complaint with the Ombudsman against the state-owned enterprise.
Mr Hislop spent most of his engineering management career overseas but returned to Dunedin about 12 years ago and became concerned when KiwiRail awarded a tender for rail wagons to a Chinese company over Hillside.
He lodged an Official Information Act (OIA) request with KiwiRail earlier this year and in response he received a censored copy of a letter dated August 19, 2011 from KiwiRail's mechanical general manager Lloyd Major to the company's board of directors.
It stated the four short-listed companies for the wagon tender were Hillside, Bradken - which has just bought Hillside's foundry - China CNR Corporation Ltd (CNR) and China South Locomotive and Rolling Stock Corporation Ltd (CSR).
The letter included each company's quote but all Bradken and CSR data was blacked out on Mr Hislop's copy.
His OIA request specified all quote information, yet he was only given the subtotal and total prices from Hillside and CNR, which won the tender.
Hillside's total was listed as $37.7 million and CNR's $31.3 million.
"The obvious question to be asked is did all tenderers quote for the same unit quantity?
"If they did, why conceal this data?
"If they did not, then this was not a fair tender process," Mr Hislop said.
He hoped to receive full disclosure through the Ombudsman and said KiwiRail, as a state-owned enterprise, should be more transparent.
Its censorship indicated it had something to hide, Mr Hislop said.
"It is unacceptable nonsense and KiwiRail needs to be brought to task for this action," he said.
KiwiRail chief executive Jim Quinn told the ODT certain information was withheld from Mr Hislop because it was "commercial in confidence".
He said the cheaper Chinese tender was chosen because KiwiRail had limited funds.
Hillside also would have taken longer to produce the wagons, KiwiRail was told at the time of tendering.
Mr Quinn said KiwiRail was pleased with the performance of the wagons.
Earlier this year, it was revealed the brakes on hundreds of Chinese-built freight wagons ordered by KiwiRail had to be replaced.