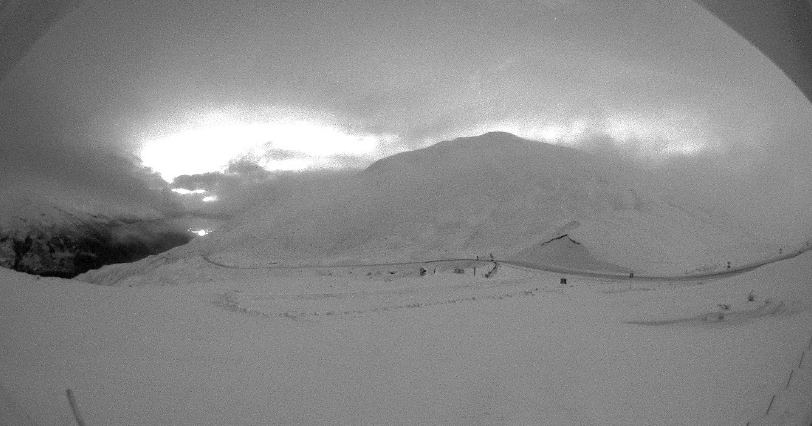 The Crown Range Road and Milford Road will remain closed overnight on Thursday as a wintry continues to blast the South, with more wild weather on the way.
Alpine roads in the South Island will also be affected, with Arthur's Pass (SH73) forecast to get up to 5cm of snow overnight.
Much of the country woke up to a bitterly cold day on Thursday, with temperatures well into the negatives and snow closing some roads in both main islands and disrupting schools in the South.
Queenstown bore the brunt, with flights disrupted at the airport and a delayed start at all the town's schools.
Conditions have eased, but forecasters say more wild weather is coming. Weatherwatch.co.nz said a big low was pushing on to the South Island with a polar southerly behind it.
Heavy rain on the West Coast was expected to fall as heavy snow in the Southern Alps, while the western side of the North Island could expect heavy rain with thunderstorms and hail in the mix.
MetService said southern areas could expect clear conditions for a time on Friday morning, but showers, hail and snow were predicted to hit Queenstown Lakes and other parts of Central Otago later in the day. 
Dunedin could expect morning showers which would become more frequent in the afternoon, some heavy with hail. 
Crown Range, Milford Road closed, snowy alpine passes
The snow prompted warnings and closures for southern roads on Thursday. 
The Crown Range Road would remain shut on Thursday due to freezing conditions and "more snow on the way", the Queenstown Lakes District Council advised. Another update was expected on Friday morning.
It was also  snowing heavily on Cardrona Valley.
The council said as a general rule, if a road was white, chains were essential, and a black road meant take it slow due to the possibility of black ice.
The Milford Road (SH94) between Lower Hollyford Road intersection to the Chasm Stream Brdge also remained closed, with rain and heavy snow forecast for the Homer Tunnel area on Thursday.
From 5pm to 11pm today, a further 10cm to 15cm of snow could accumulate near the summit of the road with lesser amounts down to 400 metres. 
Chains were essential past Knobs Flat.
The Milford Road Alliance advised that rain and snow was expected to ease on Thursday evening and the road was likely to re-open on Friday when the weather would become fine. The area would experience showers - possibly heavy - throughout the weekend.
Snow was also expected to affect alpine roads overnight, the New Zealand Transport Agency advised.
Between 5pm on Thursday and 3am on Friday, up to 5cm of snow may accumulate near the summit of Arthur's Pass (SH73), with lesser amounts down to 600 metres. 
On the Lewis Pass (SH7), snow was expected above 700 metres until early on Friday, with up to 5cm near the summit.
Snow showers were forecast for Porters Pass (SH73), the Lindis Pass (SH8) and Haast Pass (SH6), and on the Desert Road (SH1) in the North Island.

Cold snap 'not going anywhere'
Earlier, a police media spokeswoman said a car slid sideways on ice on Arthurs Point Rd in Queenstown about 7.40am. It blocked the road in both directions for some time, causing traffic to back-up, she said.
Queenstown Primary School advised this morning that owing to the conditions all schools in the resort would start at 10.30am.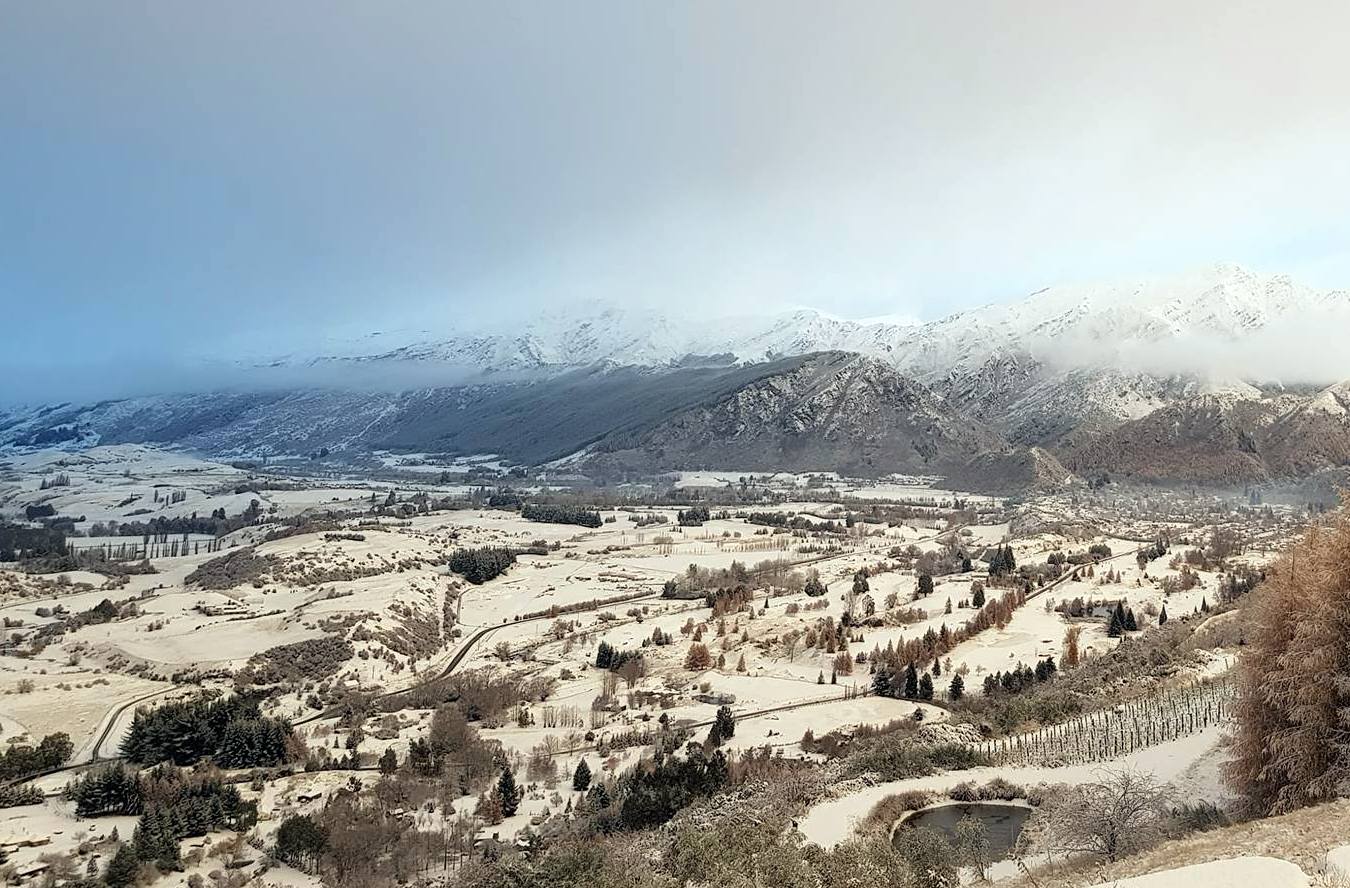 Snow fell to 300m about Otago, Fiordland and Southland this morning, MetService said, and more was forecast on the alpine passes and over the southwest of the South Island today and into this evening.
The snow also hit the North Island, closing the Desert Road (SH1) between Waiouru and Rangipo.
The coldest areas this morning were around Otago and South Canterbury where temperatures got as low as -3C.
Ranfurly dropped to -3.1C, Pukaki -3C, Timaru -2.3C and Alexandra -1.8C.
In the North Island, central areas, including in valleys and the high country, also saw temperatures around freezing level this morning.
A station in Upper Hutt recorded -0.7C, and the Desert Rd was sitting about -0.5C.
The cold snap was not going anywhere anytime soon, MetService said.
"The cold pool that brought heavy showers in the north and snow over the Desert Rd is moving east, but another one has already moved on to the South Island.
"There will be another burst of cold air today, with showers and hail, spreading onto the North Island by this evening."
There would be a short break Friday afternoon and Saturday morning, before another system pushed through in the afternoon.
"The weekend is looking pretty unsettled and cold," MetService said.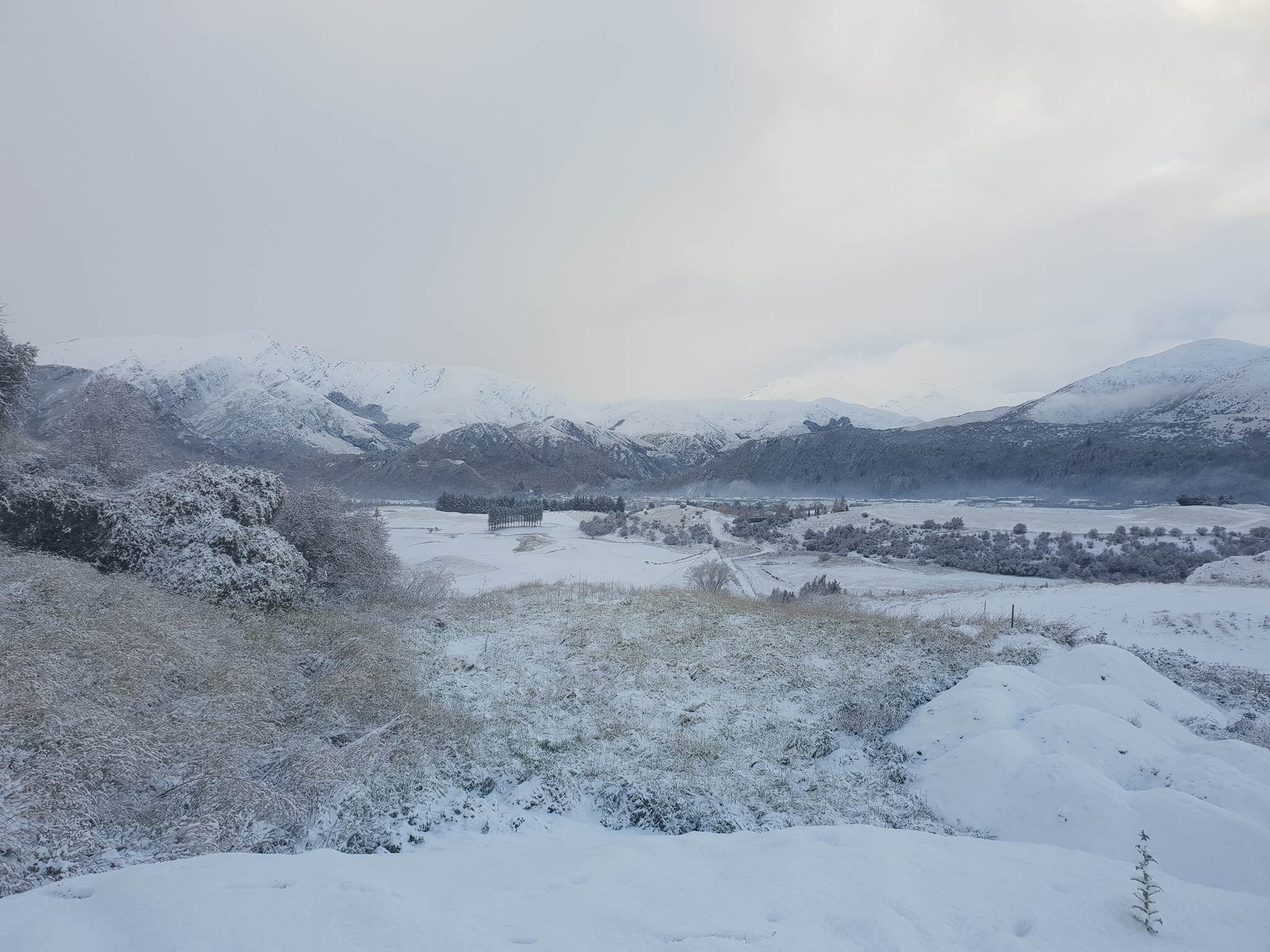 "Most western areas will see showers as these fronts approach from the west, and then eastern areas will get showers with the southerly changes behind them."
Southern areas at altitude will see more snow, while areas closer to sea level will be treated to sleety showers.
"We are finally back into winter." 
Coming with these winter storms were some massive ocean swells.
A burst of heavy swell was pushing up the west coast from Fiordland to Northland through today.
Another pulse late Friday and into Saturday could see swells of six metres around Piha.
"It has a long period too, 16 seconds, so the waves will be quite powerful," Martens said.
- NZME and ODT online