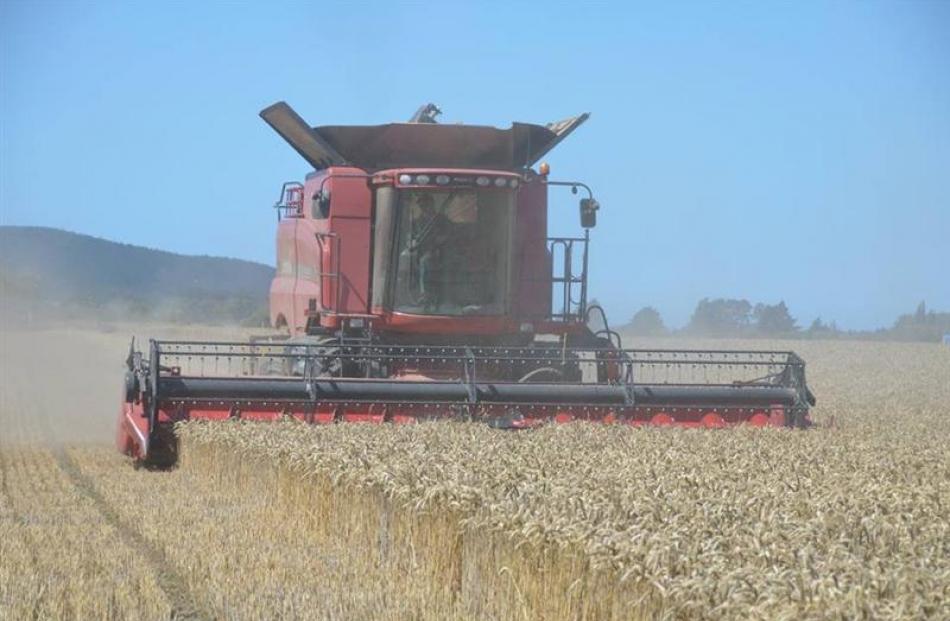 A ploughing match challenge against the Macrae's Young Farmers Club in 1965 sparked a life-long interest in the sport for East Otago farmer Noel Sheat. Rebecca Ryan and Bill Campbell talked to the former New Zealand champion ahead of the 60th New Zealand Ploughing Championships.
When the Palmerston Young Farmers Club was challenged to a ploughing match in 1965, Noel Sheat had never ploughed before.
But he proved a quick learner and helped his team beat Macrae's Young Farmers Club.
That match marked the start of a competitive ploughing career that has taken the Palmerston farmer around the world.
''It just became an interest; it was something that I found out that I was reasonably good at,'' he said.
His early success was ''a bit of a fluke'' as he taught himself the art of ploughing on a 1965 David Brown tractor with an old family plough.
''When you start off, people give you lots of advice and a lot of it's different,'' he said.
Mr Sheat (75), the host of this year's New Zealand Ploughing Championships, being held at his Palmerston property next weekend, went on to compete at world ploughing championships in Germany, Zimbabwe, Canada and Ireland, and claimed a national title and was runner-up three times.
Internationally, his best placing was fourth overall in Germany, where, to his surprise, he was also placed second in grassland ploughing.
He said the camaraderie of competitive ploughing drew him in.
It was particularly strong at international level and he remained friends with many competitors from around the world.
''You go to an area for a week or 10 days and you meet the locals and get to know the people and about the area ... You just meet a lot of people ... and you become good friends,'' he said.
In 1967, Mr Sheat helped establish the East Otago Ploughing Association and held annual ploughing matches.
''And that's carried on for many years,'' he said.
In 2010, the club amalgamated with the East Otago Vintage Machinery Club as most members were involved in both.
Mr Sheat last competed in 1999, but his involvement in the sport did not stop then.
He has been on the New Zealand Ploughing Association executive committee since 1993 and five years ago became the national executive officer.
His responsibilities include the running of the New Zealand Ploughing Association and competitions, including the 60th New Zealand Ploughing Championships to be held on the family farm starting next week.
It's a large undertaking.
Three generations work to look after the 400ha mixed crop and stock family farm at Bushey - Mr Sheat, his son Ronald and grandson Craig.
Mr Sheat sen has farmed there all his life.
The national championships start with preliminary trials from Tuesday to Friday next week.
The main competition runs over the weekend and has attracted 32 competitors from Hamilton to Invercargill.
Conventional competitive ploughing involves ploughing a specified plot in a given time frame, adhering to the agricultural requirements and achieving consistent width, depth and straightness.
Each competitor is required to plough one plot of stubble land and one plot of grassland on two consecutive days.
As is the tradition, plots will be drawn on Friday before the competition begins on stubble on Saturday.
Ploughing a straight furrow was no easy task, Mr Sheat said, and competitive ploughing needed great precision with the tractor and equipment.
It may not fit the ''20th-century New Zealander's idea of sport'', but it was a traditional agricultural activity and there was a strong fellowship in the ploughing fraternity, which extended a helping hand to newcomers, competitors away from home and visitors, Mr Sheat said.
Ploughing has been an expensive hobby for Mr Sheat, but one that has given him much enjoyment - and he has no plans to cease his involvement any time soon.
Mr Sheat hopes Jim Brooker, from Kirwee, will be among the 2000 visitors expected to attend the championships next weekend.
Mr Brooker competed at the first New Zealand Ploughing Championships in Papakaio, qualifying for the world championships with his win, and becoming the first Kiwi representative in world ploughing.
---
Straight Furrows
2015 NZ Ploughing Championships:
• Where: Sheat family farm at Palmerston.
• When: April 18-19
Four ploughing events:
• Case IH Silver Plough
• Farmlands Fuel Reversible
• Mainlands Minerals Vintage
• Horse-ploughing
• Vintage farm machinery also on display.
• Prizegiving Palmerston Sports Hall 5.30pm April 19.
---