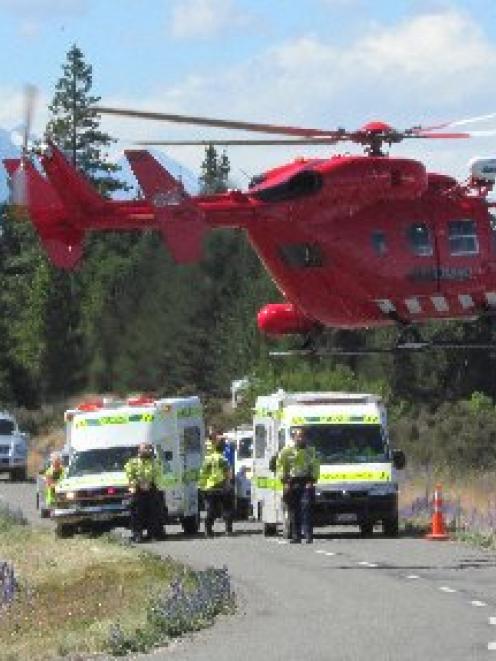 Five people were taken to Timaru Hospital with moderate to serious injuries after two powerboats collided on Lake Middleton, beside Lake Ohau, yesterday afternoon.
St John South Island communications and promotions co-ordinator Ian Henderson said St John was alerted to the incident at 2.18pm and sent two ambulances and the rescue helicopter from Dunedin to the scene.
Several police cars and ambulances also attended.
Two patients were flown to Timaru Hospital while the other three injured people were transported by road, Mr Henderson said.
Community Constable Bruce Dow, of Oamaru, said a man in his 60s with a suspected broken leg and a pre-existing medical condition was one of the two patients who were flown from the scene.
The other is believed to be the man's 3-year-old grandson, who suffered a head injury.
The three people taken by road to Timaru Hospital were a woman in her 40s with a suspected broken arm, a girl in her early teens with a knee injury and a male in his teens with head and possible back injuries.
One boat was pulling a sea biscuit and the other was being used for water-skiing when they collided shortly before 2.20pm.
Const Dow said the boat pulling the sea biscuit, which was driven by a man from Christchurch, had broken boating rules by travelling in a clockwise direction.
A young woman water-skiing behind the second boat had attempted to warn the driver about the imminent collision but was unable to be heard above the noise of the engine, Const Dow said.
The two boats had met virtually head-on as both turned the same way to avoid the collision, he said.