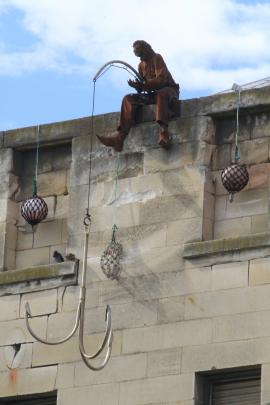 Over the past decade, few have left a bigger footprint in Oamaru than Don Paterson.
The Timaru-born-and-bred civic sculptor has called Oamaru home for the past nine years, and his sculptures have become part of the fabric of the Waitaki district's hub.
But early next year Mr Paterson (62) will sell the  Historic Places category 2 1900-vintage Oamaru Railway Station, which he has been refurbishing for the past three years, and he will take a "holiday", ending a nine-year artist's residency in Oamaru."I haven't had a holiday in the whole time I've been here, really, and I'm not sure I know how to have one," Mr Paterson said.
Although he sold his first painting when he was 12 years old, he was always more interested in re-creating the three-dimensional world around him.
It was during a stint in the army after school that he began working with leather. And soon after that he started making fibreglass busts, or torsos; stretching leather around them — fascinated, he said, by the idea of "skin".
But while practicing in Christchurch, Mr Paterson heard Gillies Metaltech, in Tyne St, was opening a gallery and because he was a "rude prick" he stopped in to introduce himself while on his way to Dunedin one day.
Shortly after, he was asked to be the artist in residence there. And eventually he managed to drag his wife, Niki, to town "kicking and screaming".
In Oamaru, he began creating bronzes and the massive steel sculptures for which he is now known.
"Residencies are normally for about no more than a year, but I just forgot when to go away," Mr Paterson said.
He decided that if anybody stuck their hand up for a residency at Gillies he would move out of the building, but until then he was staying.
Ultimately, he established "several" studios within the foundry, which is probably, he said, how his tenure at the Tyne St foundry came to an end.
"When I finished there it was all a bit much for them. I'd sort of taken over the place.
"They were pretty ...  tolerant. I hate rules.
"And I never adhered to a dress code."But over that time, he had come to love Oamaru and so he stayed.
"For such a small town there's such a multitude of different personalities," Mr Paterson said.
"You can come to a place like this and you can be just one of the people of the town, rather than 'Oh, god, he's the ...  mad artist', or something.
"And I really did hope that there would be more of a connection ...  the artists got together and got drunk and made fools of themselves, didn't give a [toss] and went off and made art again.
"What I found out was that I am probably as odd, if not more odd, than most.
"And I don't really run the gauntlet of the normal artist either. I like killing things; hunting is a huge passion ...  artists don't usually play sports.
"I don't fit the ...  mould. They're more intellectual, the other guys. Whereas I'm just more of a bruiser, or something."
Although his sculptures dot New Zealand from Waihi and Thames down the country, Mr Paterson's contribution to Oamaru is indelible.
When tourists pose and take a photo of their time in Oamaru, many snapshots include Mr Paterson's work in the background.
He was the man behind Steampunk HQ, he did the Steampunk Playground and The Galley Cafe was his vision.
"I saw what they were going to do for the Galley and it was a little prissy Victorian ...  thing and I said 'I'll be back the next day with an idea."'
Speaking to the Otago Daily Times, he used the word "unique" as a term of approbation and the word "ordinary" as a pejorative. Oamaru had embraced that sense of originality, and he said, "it would be fantastic if the art was left to the artists".
"Everything that the town does has got to be unique; otherwise they're just going to be a facsimile of some other little ...  town, and everything gets diluted."
Mr Paterson said he would leave behind a "truckload of friends", but he still had a small business in town — the Steampunk-themed virtual-reality attraction Dr Kano's Fantastic Flight in Tyne St — and he wanted to remain connected.
Yet, he said it was not a feeling of connection to the artwork he was leaving behind. He felt no ownership of the public art in town. 
"As soon as I've done it, it's like someone else has created it. I have almost no association.
"I've already moved on to another project, so that's gone."
Mr Paterson said early in the new year he would return to the Banks Peninsula home at Wainui he had owned for the past 30 years. The timing worked out and importantly his wife would be closer to family.