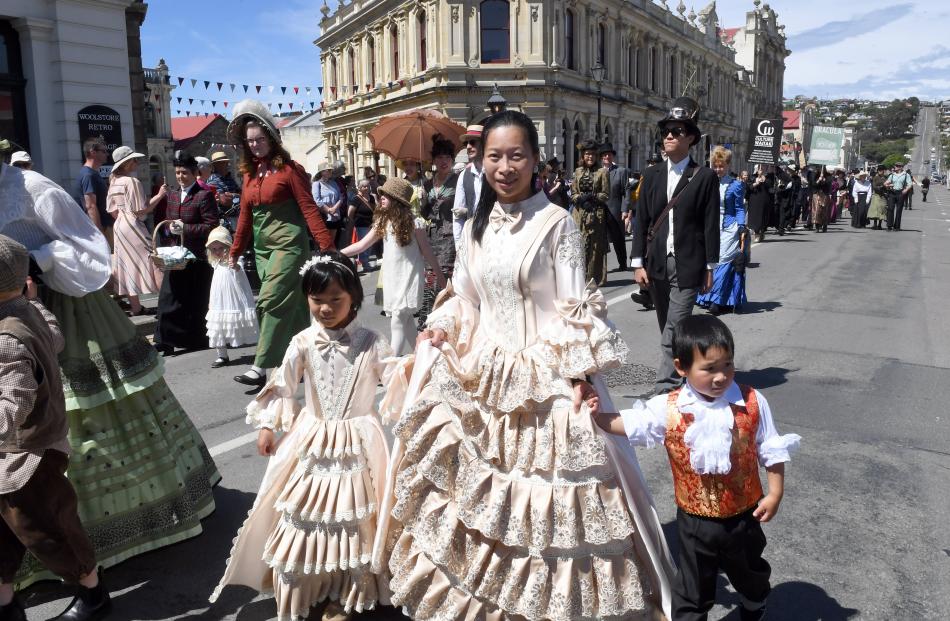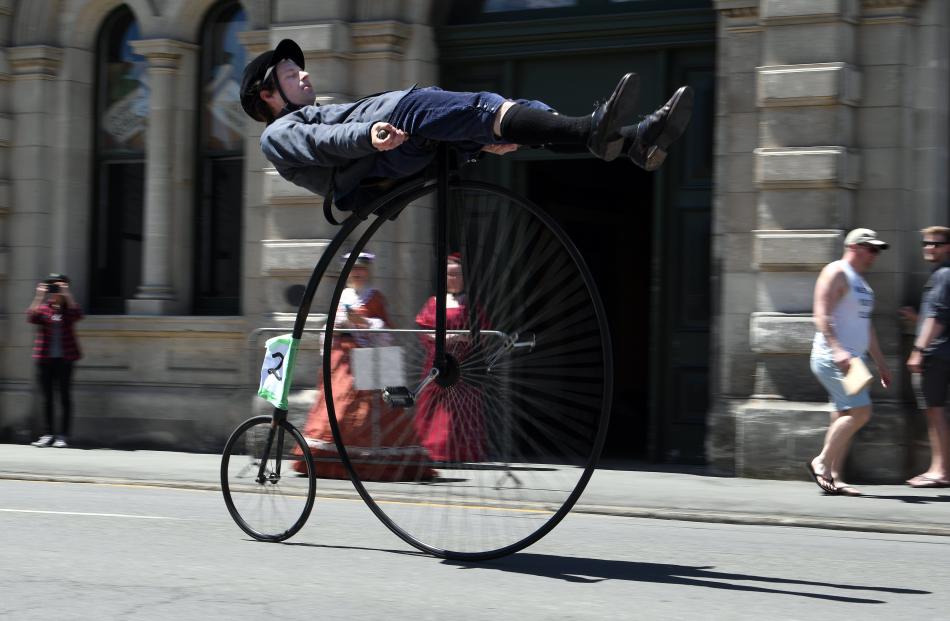 When Stephanie and Jason Jeffs set off for a long weekend in Oamaru, they never expected to go back in time.
The Christchurch couple were none the wiser that the Oamaru Victorian Heritage Celebrations were in full flight in the town.
"We came down yesterday [Friday] and just stumbled across it," Mrs Jeffs said.
There were top hats, corsets, hoop skirts, and fascinators as far as the eye could see, as hundreds of people prepared for the grand parade celebrations on Saturday.
"Seeing everyone dressed up, it's been really cool.
"We love it here, all the old vibes, and it's quite nice seeing all the older architecture, because we lost a lot of ours in Christchurch [in the earthquake]."
]Fellow Christchurch resident Vivian Huang and her children, Charlotte (6) and Harrison Jin, donned traditional attire as they joined their first grand parade.
"We've never got the chance to come down, and it's been great — it's been beautiful today."
June Simpson, of Queenstown, was attired in a blue and white chequered dress to celebrate her 12th attendance at the event.
Her son's interest in penny-farthings was how she had become involved.
"I love dressing up — I went to the great ball and I'll be going to Totara Estate, the shindig and the fete."
Peter Benson moved to Oamaru from Australia last year, and was thrown into the weekend's festivities, spending Saturday guarding Queen Victoria.
"I've been roped into it by friends, but I love the Victorian theme, all the friendly people ... and protecting the Queen."
Victorian Heritage Celebrations co-ordinator Anisha Lee said more people dressed up for the celebrations this year than previously.
"It's been absolutely fantastic to see how many people have actually turned up to celebrate today."
The Victorian literature theme had received great support, and about 80 people listened to Oamaru writer Fiona Farrell's talk on Thursday.
"They usually get about 40 at these things ... it's very well supported and people have really got behind it.
She believed people got into the spirit as Covid-19 had put a halt to other community events.
"It is our first big event since lockdown.
"People are getting more nostalgic about the past, and learning more about their own history, and this has given them the ability to do so."
The celebration events began last Wednesday and concluded yesterday.