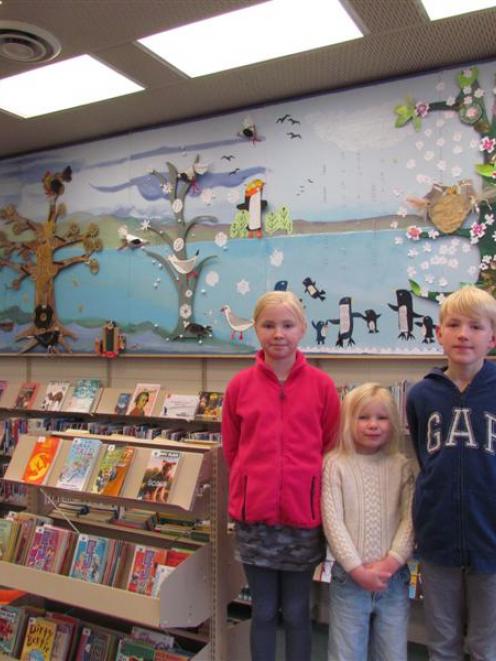 An imaginary scene of Oamaru and its birds has taken flight at the Oamaru Library on a large wall mural which was unveiled on Saturday.
The idea for the mural came from the North Otago Art Society, with funding from Creative NZ. The society worked in conjunction with the library and six children on a design from youth librarian Fiona Kerr over a three month period to create the mural.
The result is a mural about 8m long by 2m high on the wall in the children's section that has a stylised backdrop of the Oamaru coastline, with its historic buildings prominent, and trees and bird scenes created and made by the children.
Art society president Julia Sutherland said Birds of Oamaru traced the four seasons, with a bare, steampunk style tree created by 12 year old Jackson Henneveld marking midwinter.
The aim was to publicise the society's art classes for children over 8 years old, which would start at the beginning of school term four and run for 10 Saturday mornings. The society was also looking at after school classes.
Ms Kerr, who has redesigned the children's area to better meet the needs of children and their parents, felt the mural would further demarcate the area to separate it from the rest of the library and make it easier to use for programmes.
Elements in the mural would be used in future activities and portfolios available for parents and for teachers on request. These would be added to over the next few months.
Not all of the birds are strictly identifiable and some require imagination, but Jimmy the Cockatoo, in the Oamaru Gardens' aviary, is prominent at the children's request. The mural is designed to be added to, dismantled and remade in the future.