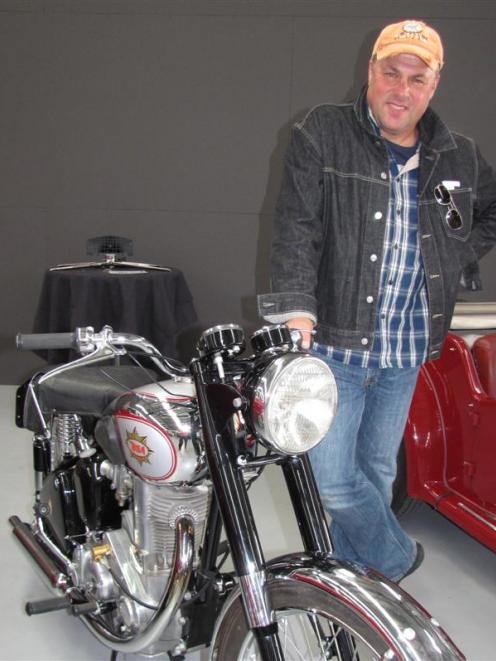 After flying into Wanaka for the day with hopes of adding to his classic motorcycle collection, Auckland's Vector Arena boss Stuart Clumpas went home a happy man yesterday.
Mr Clumpas was among about 800 registered bidders at an auction of some 60 classic cars, motorcycles, aircraft and transport memorabilia - worth an estimated $2.5 million - at Wanaka Airport's Warbirds and Wheels museum.
His winning bid of $16,000 for a 1949 BSA Goldstar motorcycle was just short of what he had been prepared to spend at the auction, which was attended by several hundred people.
''I come to these auctions with a top line in my head and I stick to that and it was a bit below that, not much ... I know what they're [Goldstars] worth and this is fairly priced and it's in very, very good condition.''
Mr Clumpas, who flew in from Auckland for the auction with some pilot friends, said he had ''a few'' bikes in his collection and rode all of them.
A final tally of items sold at the auction has not been confirmed, as many were passed in and negotiations between the highest bidders and the owners will continue over the coming days.
Neil Campbell, chief executive of Webb's Auction House, which ran the event, said there had been about $470,000 worth of sales, including those which were still conditional.
The auction was a first for his company in the South Island and attracted a lot of interest from outside the region - particularly Northland and Auckland - and overseas.
''There is definitely the quality of vehicles in the South Island for such events and there was also a lot of interest on the auction floor, on the phones and on the internet.''
At least three items were sold to offshore buyers, Mr Campbell said.
There were some surprises, with a 1942 Willys Jeep selling for $29,000, well above its price guide which was between $18,000 and $22,000.
Some of the more expensive items also attracted strong interest, such as the $210,000 top bid for a 1937 Packard Victoria Convertible. However, the offer was not enough for the owner to part with the vehicle.
A rare 1924 Model C Rickenbacker Roadster was passed in at $60,000 and a 1941 Harvard/T6 Texan aircraft valued between $170,000 and $190,000 attracted no bids.
Warbirds and Wheels marketing manager Ed Taylor was keen for the venue to host another auction.