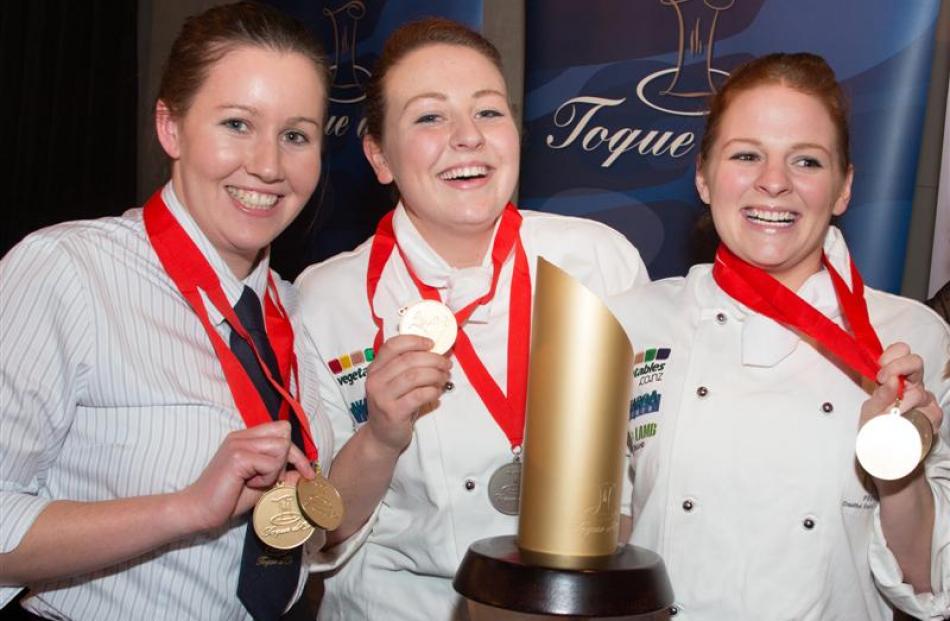 The butter chicken mousse dessert served with chocolate salted nut bar and berry and chilli water ice might have been just a step too far for the 19 judges, but it did not matter in the end.
A team from Otago Polytechnic's Cromwell campus outcooked and outserved 11 other student teams, winning the top award in the 2014 Nestle Toque d'Or competition.
Their menu included roasted baby beet salad, green rice crust and beetroot cured salmon, roasted lamb rack with Anna potatoes and winter vegetables.
The competition was held in Auckland on Monday. The Cromwell team's win was a first for Otago Polytechnic.
It took the team over three hours to prepare and serve its award-winning menu, in front of industry professionals.
Student chef Erin Fenemor said her team was elated to have won.
''We put in hours of training in the lead-up to the event, juggling work and study commitments and forgoing all sorts of social activities.''
Chef trainer and team manager polytechnic senior chef lecturer Roydon Cullimore told the Otago Daily Times the chicken mousse dessert was an attempt to use a sponsor's product in an unusual way, but it was not regarded by the judges as the strongest part of the Cromwell menu.
''The butter chicken didn't go down well at all,'' Mr Cullimore said.
Other things did, however, and his team handled the intense competition well and he believed the win would set the students up for rewarding careers, Mr Cullimore said.
''Success in a live cook-off is all about timing, maintaining composure when the pressure is on and working seamlessly as a team.
''If just one thing is out on the day, then failure is inevitable.''