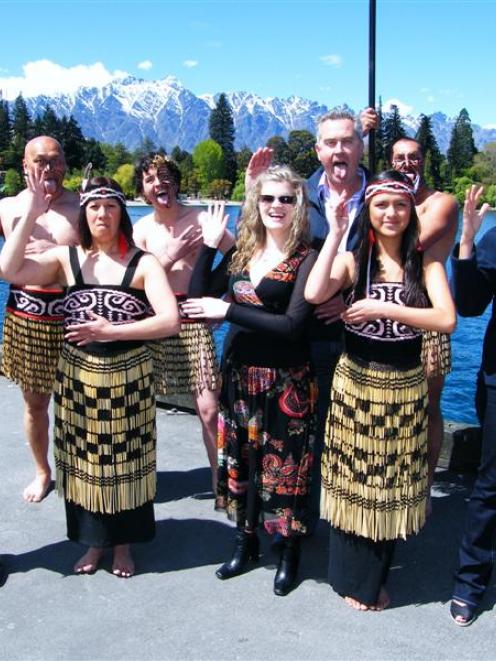 Queenstown welcomed the first fundraising flight by the Australia-based Royal Institute for Deaf and Blind Children (RIDBC) to New Zealand on Saturday.
The 2009 Qantas Pathfinders Charity Flight to the resort was the eighth annual flight and was a sold-out event.
A full capacity of 168 passengers of all ages and backgrounds, mostly from Sydney, but some from interstate, paid $A750 ($NZ916) each to board the Boeing 737 for the one-day cultural and adventure experience across the Tasman.
The charity was on course to raise more than $100,000 from ticket sales for the institute's teleschool.
The teleschool provides education and support to children with sensory impairment living in regional and rural areas of Australia.
Qantas donated the 737's use, flight crew and ground staff.
Qantas Flight Catering and LSG Sky Chefs provided the on-board catering, while Shell and ExxonMobil donated the fuel.
The flight was piloted by Qantas captain Craig Lambert, who joined his wife Meri-Jade Lambert, plus blind singer-songwriter Krystel Keller and RIDBC ambassador and author Tara Moss on Steamer Wharf.
The Lamberts' 5-year-old daughter Natalija is blind and a pupil of the institute.
Mr Lambert said Queenstown had the the best landing in the world and explained how RIDBC had supported his family in raising Natalija.
Occupational therapy had taught her the basic functions of life.
The institute helped set up her room to aid her mobility and provided brail and 3D pop-up books.
Ms Moss praised the beauty of Queenstown's scenery and hoped to return for a longer visit.
The institute was unique and its work was close to her heart, she said.
"As a writer, I'm quite taken with the cause because of the importance of expression and communication, and the fact that these kids have special needs and they need the services that the institute offers."
NZ Haka performed a traditional Maori welcome for the visitors on the wharf before the group boarded the historic steamship Earnslaw for a cruise to Walter Peak Station.
Visits to the arts and craft market on Earnslaw Park and to Skyline Gondola rounded off their whistlestop tour, then it was back to Queenstown Airport for departure.