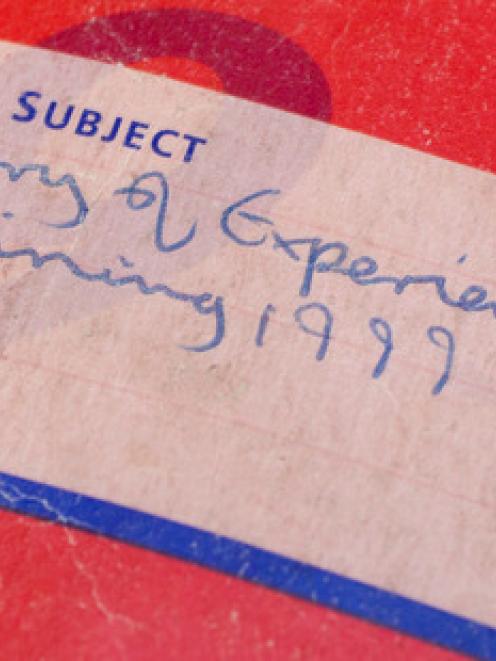 A diary detailing a mystery British man's travels around New Zealand, Thailand and Nepal, has been found in a campervan in Queenstown.
The well-worn Warwick 1B4 exercise book, complete with its fair share of stains and watermarks, has weathered the turn of the millennium well - but reveals little of its author, beyond his birthday, his love of football, fitness and foreign girls.
The diary, titled Diary of Experiences and Training 1999, was handed into The New Zealand Herald in an attempt to try and track down its original owner.
Romain Toulouzet, who lives and works in New Caledonia, was travelling around the country, with his partner Claire, when he found the diary, in the campervan.
"It was between the fridge and the chair…We opened it, but we didn't read it."
Instead Mr Toulouzet handed the diary over to staff at Mighty Cars and Campers.
The staff, intrigued with the mystery man, hoped going public with the find would help reunite the diary with its owner.
Communications Coordinator for Tourism Holdings Limited, the parent company of Mighty Cars and Campers, Olivia Bellini, said the man appeared to have a great time travelling around New Zealand.
"We'd love to return the journal to its owner and find out more about his travels around New Zealand as I am sure he'll have a lot of great stories to share."
The man, believed to be a Manchester United fan, was away from home for a total of 22 ½ months, celebrating his birthday on April 12.
The diary, recounts the man's regular exercise regime, along with little tidbits of his travels throughout the first half of 1999.
It begins with a brief recount of a mountain bike trail in Nelson on January 31, 1999 and continues with short descriptions of his time travelling around the country to places, like Nelson, Kaikoura, the West Coast, Southland, Rotorua and the Coromandel Peninsula.
The mystery man recounted stories of his hiking adventures, wildlife encounters, swimming with the dolphins and meetings with travellers and locals.
His diary also exposed his romantic side, with descriptions of a "beautiful" Brazilian girl, a Hungarian girl who he described as "beautiful with high cheek bones" and a girl from Seattle that he spent the night with on March 7, 1999 in a Christchurch bed and breakfast.
The writer eventually left New Zealand on March 24 for Bangkok, before getting on an overnight bus to Chiang Mai. He spent the next few days in Thailand before flying to Kathmandu on April 5.
He spent the next month trekking around the area, celebrating his birthday in the Nepalese mountains, before ending his adventure celebrating a Manchester United win back in Kathmandu.
"Found out United through to the final of European cup - piss up with the lads in the pm, dancing etc."
The football fan then flew back home to Manchester, via Bangkok and London on the first of May, where he was greeted by "Mum, Daniel, Edward, Sarah and Nick".
Not long after that he commented he was having a tough time getting back to "normality" - the last diary entrance to make reference to his personal life.
The remainder of the mystery writer's diary continued to detail his fitness excursions up until it ended on December 31, 1999.
His final diary entries indicated he was likely living somewhere in northern England at the time of the last diary entry.
It is not known how the diary ended up back in New Zealand.
Timeline
Jan 31: First diary entry: am weights leg + torso pm 35 min cycle (MTB) Brookvall + Tantragee Saddle.
Feb 1: Nelson to Kaikoura
Feb 6: Ascent of Avalanche Peak
Feb 8: Franz Josef Glacier tour
Feb 19: Stayed in Aspiring hut with a Brazilian girl, Israelian girl, Paul and Luciano.
Feb 26: Drove Peggy down to Te Anau
Mar 1: Kayaked in Milford Sounds with someone called George - from Kentucky.
Mar 7: Spent evening in a Christchurch Bed and Breakfast with a girl from Seattle.
Mar 10: Met John from Hebden on Mt Ngarahoe and spent the evening with him and Jimmy Johnson (warden from Norwich), Erica and her sister Hungary, Chris from Seattle and Lorenzo from California.
Mar 12: Conversed with Sam (warden) and Mark and Declan from Auckland.
Mar 14 - 16: Met up with Sally and drove to Rotorua, followed by a trip to the Coromandel's Cathedral Cove.
Mar 24: New Zealand-Bangkok.
April 5: Bangkok - Kathmandu.
April 7: Kathmandu to Lukla
April 12: Celebrated birthday on a hike with a Kiwi man called Mark.
April 26: End of trekking adventure spent celebrating a United Manchester win.
May 1: Kathmandu-Bangkok-London. Train up to Manchester. Greeted by Mum, Daniel, Edward, Sarah and Nick.
Jun 13: The start of a return to normality
Dec 31: Diary ends.
- Corazon Miller of the New Zealand Herald