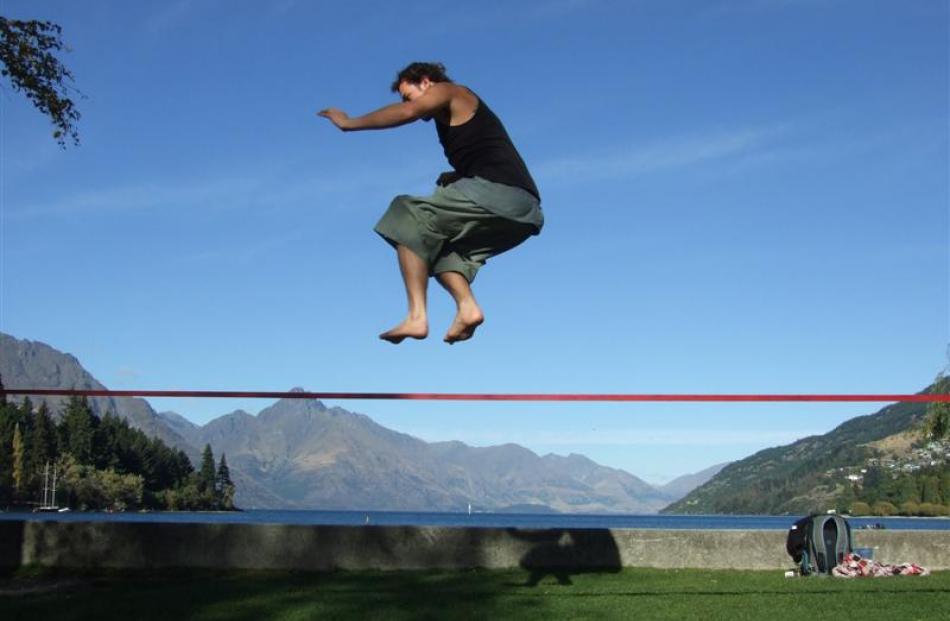 A sport which draws crowds of onlookers because of the perceived danger involved and skill required actually helps heal injuries, those who regularly practise it insist.
It is thought slacklining - balancing on a line tied between two trees - came about after rock climbers needed to maintain their core strength even when the weather worked against them.
Now, slackliners can be found all over the world and a Queenstown group of them has high hopes of demonstrating their sport to the enthusiastic crowds of the Winter Festival.
Never mind the jumps followed by impressive backflips slackliners do to impress, Queenstown slackliner Samar Farooqui insists.
''If you can stand on one leg, you can slackline.''
''You don't have a snowboard to control, you don't have a bike to control - it's the easiest sport to come across,'' he said, adding that slacklining was useful for snowboarders and skiers to work on their balance.
Mr Farooqui is part of a group who can usually be found practising slacklining on Queenstown Bay. They are hoping to organise an interactive demonstration during the Winter Festival to share their passion.
Those worried about injuring themselves can be assured the experienced slackliners can lower the line, as they did for the author of this story, to suit comfort levels.
''A lot of people are using slacklining as physio,'' Mr Farooqui said. A fellow slackliner added that he had used it to heal an ankle injury.
''What it does is it aligns the body,'' Mr Farooqui said.
"It's a really healthy lifestyle sport and it's convenient; you can set it up in your backyard if you've got two trees.''
He began slacklining in India and was pleased to come across the sport in Queenstown when he arrived three years ago.
Slackliners often use towels or tea-towels to protect trees and will only use sturdy trees.
The group is encouraging people to give the sport a go and will offer lessons to anyone who asks.
• Anyone who is interested can email slacklife.balance@gmail.com.