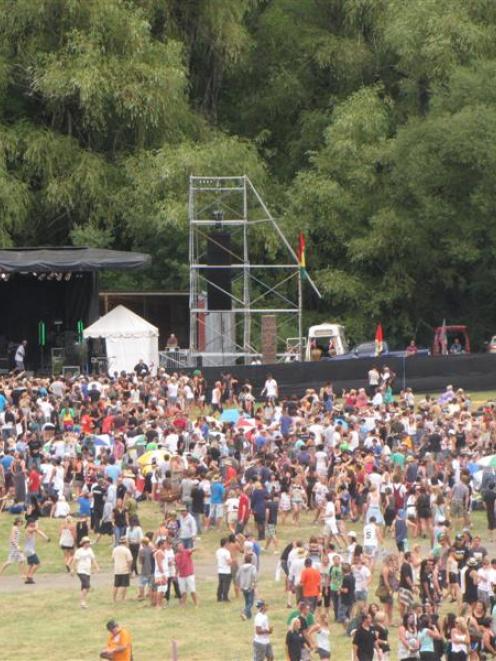 The countdown has begun to the eagerly awaited Shotover Sunshine Festival near Queenstown next month. The Wakatipu's homegrown open-air biennial music festival returns for the second time to private land at the Coronet Peak end of Littles Rd on Saturday, February 9.
Kiwi dub roots rockers Kora top the bill, closely followed by the dub funk afrobeat and soul collective the Black Seeds.
Wakatipu favourites Tiki Taane, with his acoustic set, and Ladi 6, Sola Rosa, AHoriBuzz, the Upbeats with MC Tiki, Sunshine Sound System, Funkommunity, Peacekeepers featuring P-Digsss, Bora and Nicky Research, Soulsystem, Rhythmonyx, K+Lab and Analog MC and Turbohag, with host MC KPz, round out the perfect summer soundtrack at the festival.
Organiser Simon Hendl, of Queenstown, also known as DJ Downtown Brown, said ticket sales were picking up after the Christmas lull.
Almost 4000 music fans partied for the inaugural show in 2011 and it was hoped 1000 more would attend this year.
Mr Hendl said while Queenstown and Wanaka residents were mainstay supporters, 10% of tickets sales for the 2013 festival were to Aucklanders.
The site off Littles Rd would be transformed a week out from the festival, and the line-up was confirmed, he said.
''Kora are getting really good reviews on their summer dates following their album release and I'm looking forward to seeing them live.
''I've had the pleasure of working with those boys [the Black Seeds]. They're just remarkable for getting onside with the crowd. They always seem to rock the party.''
Festival gates would open at noon and the event finish at 1am. Organisers advised patrons to allow enough time to get to Littles Rd, park and get into the event.
At the gate, everyone would be given a wristband and would have the option of loading it with refundable credit by cash, eftpos or credit card using recharging stations on site.
Tickets cost $140 and are now on sale from the festival website and Dash Tickets online.
Patrons could take their own food, but affordable food and beverages would be available. For details on VIP tickets at $250 each, plus entry conditions, maps, buses, parking and accommodation, visit the festival website.
• The official Shotover Sunshine Festival Warm-Up Party will be held in the World Bar on January 19 from 10pm. The Sunshine Sound System, featuring Downtown Brown on the decks and MC KPz on the microphone, will play everything from 1980s classics to reggae to the latest dubstep tunes at the free event.