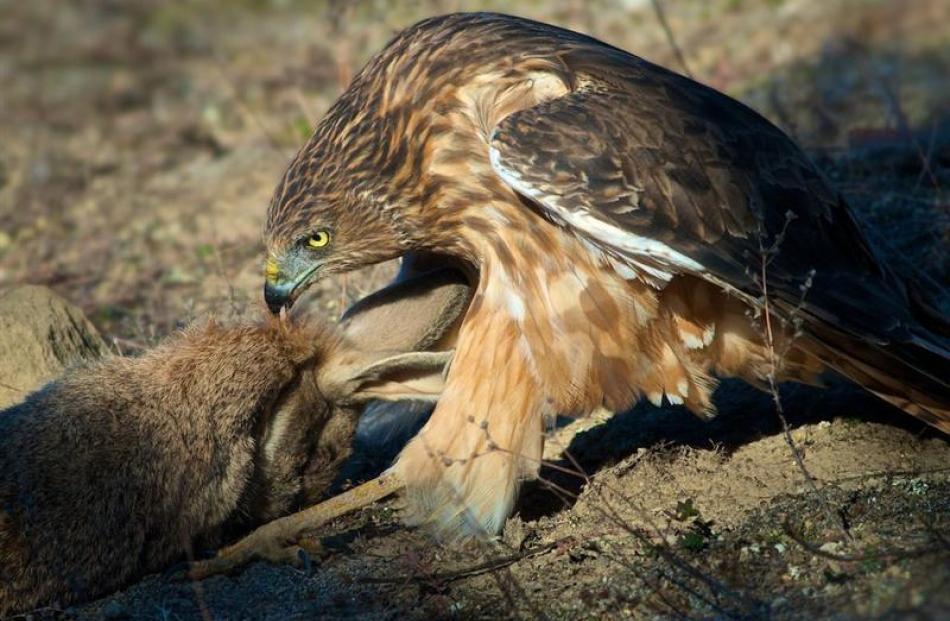 Being a ''determined old bugger'' paid off for hobby photographer Simon Larkin, who spent endless hours sitting silent and motionless inside a tiny bird hide to capture a winning wildlife shot.
Mr Larkin (46) and his family live on 8ha at Queensberry Hills, between Cromwell and Wanaka, where hawks routinely circle the skies searching for the spoils of the area's rabbit control efforts.
That setting sparked an idea which culminated, after a two-year ''waiting game'', in one of Mr Larkin's hawk photos winning the Otago Wildlife Photography Competition's animal category and the event's 15th anniversary prize.
Using rabbit carcasses to lure his subjects, Mr Larkin endures hours at a time squeezed into a 78cm by 50cm by 115cm hide with his camera and tripod, mainly in autumn and winter when the usually ''skittish'' birds seem more confident.
''My lens pokes out in the netting in front of me so that they can't see me inside and I just sit there still as a rock for three hours contemplating life and the meaning of the universe.''
The home-based graphic designer, who also passes the time in the hide checking work emails on his cellphone, has experimented with different concealment methods.
''I tried just hiding in a bush and that didn't work because they've got amazing eyesight obviously and they can see you a mile away.''
A wooden frame covered in tarpaulins was destroyed by the wind, but his latest model made from concrete blocks is proving effective, albeit cold and cramped.
''I've managed to really bling it out with a little foam pad to sit on. That's about it.''
A friend had suggested his photography award now called for ''a really posh hide with a beer fridge and all this stuff '', Mr Larkin said, joking.
He has learnt to fool the birds into taking his bunny bait by walking to the hide with his wife, Julia, who then heads back to the house.
''Once they see someone walk back they think it's all clear ... that's quite a neat little trick.''
His bird portraiture project has led to a real fondness for hawks, which were ''magnificent animals'' but not the cleverest.
''Whenever we're driving into town or something and we see a [dead] rabbit on the road we stop and hoof it off the road because we know the hawks will probably land on it and get squashed.
''It's strange how you can scoot past them in a car and they'll stay put, whereas if you try to get out of the car and take a picture of them and they see a human shape, they just disappear so quick.''
Fellow photographers at the wildlife awards were keen to hear the secret behind Mr Larkin's winning Hawk Fight image, in which two birds are shown in mid-air battle after one is interrupted while eating a carcass.
''They're really frustrating animals to try and get close to so I think a lot of other photographers are quite interested when they've had a try and given up quite quickly. I was being a bit more determined and stuck with it.''