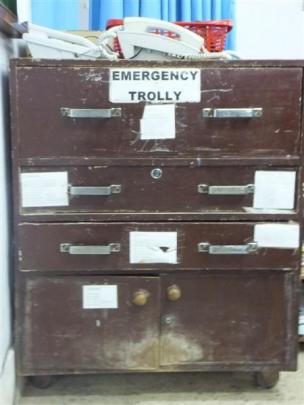 University of Otago School of Medicine student Kerry Short, based at the Christchurch campus, was one of two recipients of the Queenstown-based Pat Farry Rural Health Education Trust Travelling Scholarship last year. The 23-year-old, originally from Matamata, wraps up today her front-line experience of rural medicine in Nepal from November 19 to December 23. She summarises her encounters while working in Zambia, from January 3 to February 18, later next month for the Queenstown Times.
Wow! Nepal has been quite the experience and a true introduction into medicine in a Third World country.
As I am keen to follow a career in rural medicine, I chose to do my elective in developing countries and in resource limited areas. I wanted to challenge myself and gain experience in clinical decision-making in difficult situations with or without the resources to which we are so accustomed.
In Nepal, I've been based at Scheer Memorial Hospital in Banepa, doing a three-and-a-half-week rotation working in internal/emergency medicine, obstetrics and gynaecology and paediatrics.
It's a small mission hospital serving a large rural population, situated 30km, or a two-hour bus trip, from the edge of Kathmandu. Patients can travel for up five to six hours in order to see us, whether that is by bus or walking down from the hillside villages.
The standard of health care in Nepal is hard to compare to that delivered in New Zealand. While the doctors at Scheer Memorial Hospital are well trained and have experience from many institutions from around the world, they are working in very different conditions.
Patients here must pay a fee to see the doctor. We then review the patient and write a list of equipment, investigations and medicines we need.
This list is given to the patient's family who then must purchase the items at the pharmacy/lab/X-ray and bring it back to us before we can ''treat'' the patient. This occurs for patients whether they are in the clinic or the emergency room.
It is hard to deliver the health care you want when patients cannot afford what we have prescribed. It is then a matter of negotiating, prioritising and finding a balance between need and cost.
I think in many ways it has forced me to consider more carefully and to justify each decision about tests needed. I believe this experience will be incredibly useful in New Zealand, as health-care costs are increasing and some of the burden is on clinicians to be utilising our resources in a cost-efficient manner.
I also went to visit a small health post which provides primary care to a collection of small villages.
That was a fantastic experience, as it demonstrated how to ''work with what you have''. We only had a set listof 25 free medications/lotions we could prescribe.
In five weeks in Nepal I have seen so many conditions I had only read about in textbooks. It has been a wonderful learning opportunity to see, diagnose and treat these diseases and has broadened my medical knowledge base.
In both placings, thanks to my Pat Farry Trust Scholarship, I've had the funds to provide equipment such as an automatic blood-pressure machine, a blood-glucose monitor and testing strips, thermometers, gloves, batteries, bandages, scissors and basic first-aid kits to the Scheer Memorial Hospital Obstetric Department and the Chitwan health centre.
This equipment was very much appreciated as they need all the help they can get.
As I wrote to my family and friends, Nepal, thank you for an amazing five weeks. You have taught me to relax and do things on Nepali time, shown me humanity at its best and worst, engulfed my senses at every opportunity and opened my eyes to medicine at its rawest. I will miss you.
• For more information visit www.patfarrytrust.co.nz.