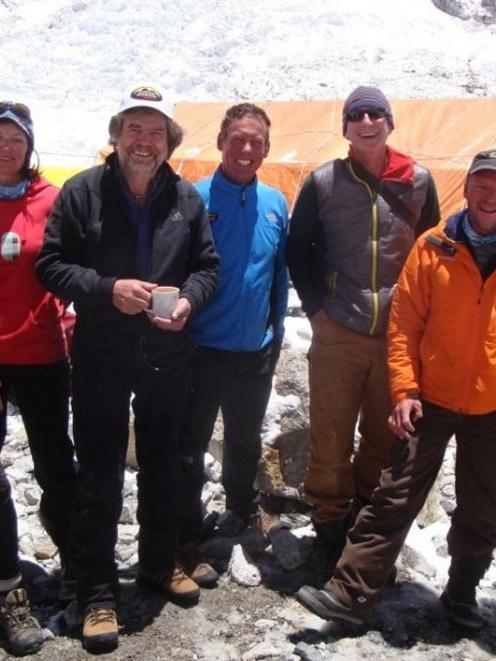 Wanaka climber and Adventure Consultants director Guy Cotter was on a high before he even left Everest base camp last week after meeting one of his idols, Reinhold Messner, who is considered by many to be the greatest climber in history.
Mr Cotter was preparing to summit Lhotse - the fourth-highest mountain on Earth, which is connected to Everest via the South Col - as part of an Adventure Consultants expedition, when Messner (68) showed up unexpectedly.
In a dispatch from base camp, Mr Cotter said he was taking a nap in his tent when he was woken by Lake Hawea guide Dean Staples, who is leading the Adventure Consultants Everest expedition, and told Messner wanted to interview him.
''Now I'm sure most readers will know that Reinhold Messner is the most famous living mountaineer, having been the first person to climb all 14 8000m peaks (without oxygen), so it was a bit of a surprise to think he was here to see us,'' Mr Cotter wrote.
Lhotse team member Anthony Baldry had met the film crew on the trail in base camp and suggested they talk to the rest of the team, which included German speakers. Within minutes, Mr Cotter was on camera discussing modern expeditioning with Messner.
Several other expedition members were also interviewed, including Adventure Consultants Everest guide Lydia Bradey, also of Lake Hawea. Bradey was the first woman to climb Everest without oxygen in 1988, a feat Messner accomplished 10 years earlier.
''After we'd completed the filming and they'd had a good look at the facilities around our camp, the Messner team stayed for lunch and we all had a convivial time together before they flew back to Namche Bazaar by helicopter for the night,'' Mr Cotter said.
The television show will air in Austria and Germany on May 23 and 29.
The Adventure Consultants Lhotse and Everest expeditions will make summit bids this week.