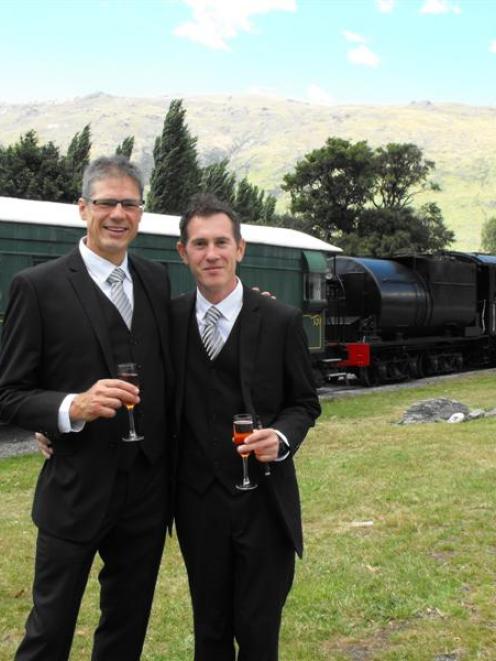 The Kingston Flyer can still surprise as on Saturday the historic steam train hosted its first civil union marriage, in Kingston.
Sydney couple Shawn Finlay (40) and Martin Kohn (54)arrived in Kingston two years ago to celebrate a family member's wedding and fell in love with the place and its people, they say.
A year later, the couple moved into a small home on Churchill St and on Saturday they made use of New Zealand's Civil Union Act and married at the lakefront of Wakatipu.
''Shawn decided he belonged here and I agreed,'' Mr Kohn said.
''He had one of those moments of clarity.''
The couple met nine years ago in Sydney and said they would have married much earlier, had Australian law allowed it.
Mr Finlay said he would like the Australian Government to learn from New Zealand with the introduction of the civil union, but his home country was slow on the uptake on the issue.
''It'll happen one day. I hope so, but I don't really have much hope for the Australian Government, in general.''
Since moving to Kingston, the couple agree the community has been very accepting and they have quickly become well-known around town.
''Everyone's really accepting here. We're just a normal couple here.''
''You have to wave to everybody here, I love it. You don't get that in Sydney. It's kind of rural here and it is a lot different to being in the hustle and bustle of Queenstown,'' Mr Finlay said.
This has suited his partner down the ground, as Mr Kohn's passion is for the outdoors and mountain biking, which they both plan to do more of.
The couple still run and work for separate design businesses in Sydney and say the time differences means a late morning start of about 11.30 for work.
They have recently finished refurbishment of their home and have plans to live in Kingston for a long time yet, Mr Finlay said.
They decided the town's icon, the Kingston Flyer, was the best venue for their their wedding lunch and pre-drinks because they wanted to fully immerse themselves in the local culture.
''It's part of Kingston, really. It is really embracing a big part of where we live,'' Mr Finlay said.
The train was decked out with champagne glasses, a bar, lavender ribbons on the doorways and tinsel throughout for the big occasion, with a modest guest list of 49.