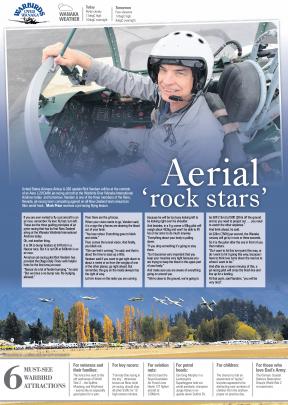 Contrary to rumours, today's Warbirds Over Wanaka International Airshow has not been cancelled because of bad weather.
Show general manager Ed Taylor expressed his frustration to the Otago Daily Times yesterday at calls he and other show organisers had from people who thought the event had been cancelled.
''They are probably sitting up in Greymouth and Christchurch and Dunedin in 80-knot winds and pouring rain and thinking, 'well Wanaka must be cancelled. They can't be having good weather'.''
While there was low cloud at the start of yesterday's practice day at Wanaka Airport, by midmorning the sun had broken through in places and temperatures were rising.
Confirmation the weather was having no impact on the show came mid-afternoon when three jets completed a loop over the runway - something they could not have done under a low cloud ceiling.
Bad weather further north did strand the Harvard aerobatic team in Auckland, and aerobatic pilot Jurgis Kairys was taking a circuitous route from Auckland to dodge bad weather but was expected to be at the show in time for his performance today.
Mr Taylor estimated 7000 to 8000 people attended the practice day.
A ''dogfight'' over Lake Wanaka, involving six World War 1 replicas, went off without a hitch
yesterday evening in front of thousands of spectators lining the lakeshore.
The term ''dogfight'' was used because it was ''a duel to the death between two opponents'', she said.
The young pilots in their Aircos, Nieuports and Sopwith Camels, used to have a three-week life expectancy and were not even issued with parachutes.
''The Air Ministry thought that if they gave pilots parachutes they might use them and jump out of a very valuable aeroplane before they began aerial combat.''
In their very flammable aircraft, and usually covered in oil themselves, the pilots had three options if they caught fire.
One was to stay with the aircraft, one was to jump and the other was to use the revolver they had been issued with.
The dogfight will be repeated at the show today and tomorrow.