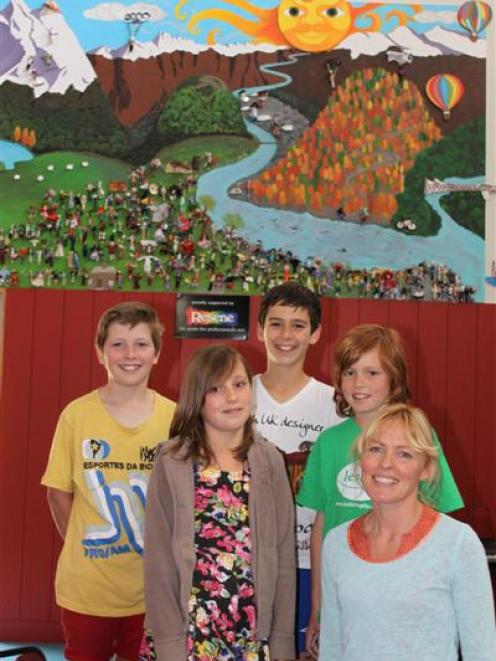 Arrowtown Primary School year 6 pupils, from left, Billy Conner (11), Geena Slow (11), Ayden Vescio (10) and Gabe White (10), with teacher Janey Winders, stand in front of the mural the children helped create. The art work, which is hung in the school's hall, was highly commended by judges in the Resene mural masterpieces national competition.
Mrs Winders said the mural was created with the help of every one of the school's 450 pupils, who either took part in painting or created their own ''peg people''.
The mural had been a dream of Mrs Winders' for some time, with ''no real art work'' in the school hall.
The ''Go for Gold'' theme of the mural not only tied in with Arrowtown's sesquicentennial, but was also the school's motto.
After Mrs Winders' sketched the mural, which features Coronet Peak, Lake Hayes, Tobin's Track, the Kawarau bungy bridge, TSS Earnslaw and the Arrow River, among other things, she enlisted the help of about 40 children, parents and teachers who worked solidly for three weeks - including nights and weekends - to complete the mural. Resene provided half the paint required for the school's entry in the competition, which is open to towns, schools and communities around New Zealand, recognising groups and individuals.
The best school mural - primary section was won by Riverview School, in Kerikeri.