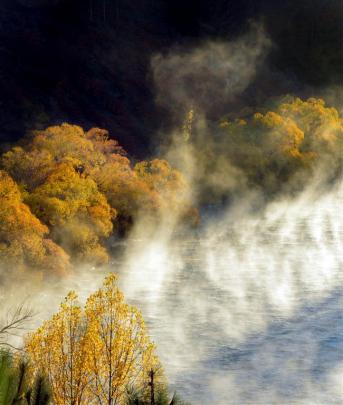 Beautiful scenery enhanced by autumn colours is attracting more tourists to Central Otago in the traditional shoulder season. Otago Daily Times illustrations editor Stephen Jaquiery captured some of the magic yesterday.
Autumn colours are helping to extend Wanaka's peak summer and winter tourist seasons.
Lake Wanaka Tourism general manager James Helmore said autumn accommodation bookings were ''very strong''.
''I don't have any specific statistics, but anecdotally I've been hearing of people having bigger bookings in April than March. I'm seeing a lot of 'no vacancy' signs.
''The autumn colours are one of the top 10 reasons to visit Wanaka that we put in our brochures and on our website.''
One of its major campaigns was to increase tourist numbers in the shoulder seasons of autumn and spring, he said.
Last year, overall tourism to Wanaka increased by 15% on 2014, but increased 25% in the shoulder seasons.
There was a rise in photography tours in the autumn months compared with previous years, he said.
Edgewater Wanaka general manager Mike Barton said the hotel was having a ''record'' autumn.
''Our shoulder season hasn't even started yet, and when it does, it won't be long, because Cardrona opens in June.''
Its restaurant created autumn-themed menus and put leaves on the tables, he said.
Large tourist groups were often seen taking photos of the lone tree in Lake Wanaka which lies near the hotel, he said.
''Due to the tourism campaigns overseas, the increase in Chinese tourists has grown exponentially in recent years.''
It had to turn people away this autumn, but this was partly due to renovation, he said.
Overall guest nights in Wanaka in 2015 were 743,293.
Central Otago District Council tourism marketing manager Alison Mason said ''van loads'' of people also flocked to Central Otago for the autumn colours at vineyards and orchards.
It was also the peak season for the district's cycle trails, she said.