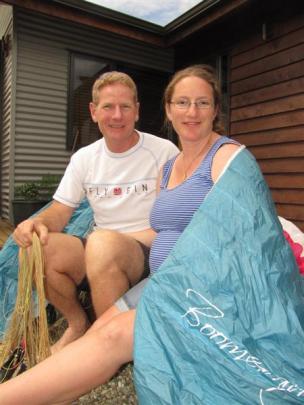 Lake Hawea paragliding pilot Grant Middendorf (47) has laid claim to another New Zealand record - giving him all three of the country's main paragliding records.
Last month, Middendorf flew a 117km ''FIA triangle'' around Lake Wanaka - starting and finishing at Treble Cone.
One of the requirements was that the shortest leg had to make up 28% of the course.
He already held the New Zealand record for the longest flight - 142.4km - achieved in 2005, and the longest ''out and return'' flight - 91.4km - achieved on Christmas Eve last year.
He landed his latest record in excellent conditions with plenty of lift that kept him in the air for 5hr 46min, and took him to 2874m.
The quietly spoken explosives expert told the Otago Daily Times he was ''quite proud'' of his achievement, which was almost as significant as his one-time fourth-place world ranking. Middendorf has been flying for 25 years and claimed the national title at competitions in Queenstown and Wanaka earlier this year.
About to become a father for the first time, he was not sure what more he would be able to achieve in the sport - which was very demanding of time and money.
However, with his wife Lucy also being a paragliding pilot, he expected family outings a couple of years from now would likely to involve a little flying.