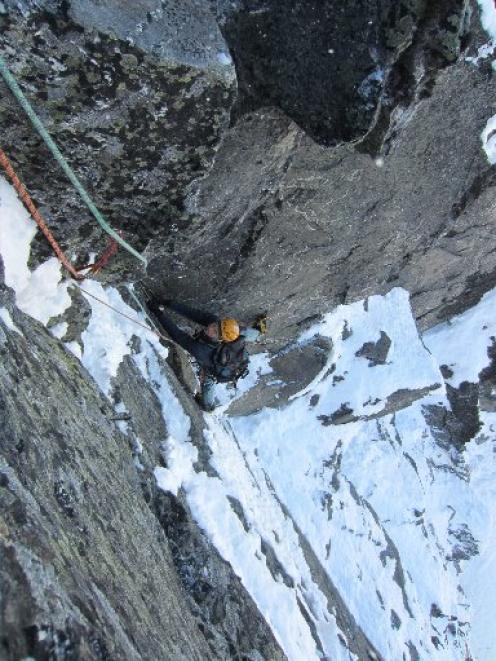 Top alpine climbers from around New Zealand and overseas will descend on Queenstown this winter for three days of modern mixed climbing on the Remarkables mountain range.
The inaugural Remarkables Ice and Mixed Festival will run from August 16 to 19.
Inspired by climber gatherings in Colorado, Queenstown climbers Daniel Joll, Craig Jefferies and Ben Dare are co-ordinating the new festival.
Their aim is to fill the niche in New Zealand climbing events for intermediate and professional level climbers to gather, share knowledge and push themselves.
The organisers describe the Remarkables as the country's most accessible multi-pitch winter training area.
The development of climbing on the range had accelerated in the past three years, Mr Joll said.
More than 45 climbers have registered so far from around the country, plus Australia, Spain and Ireland. Attendance was likely to be capped at 100 participants for the first festival.
Attendees will be given a guide to the Remarkables, which has more than 30 unclimbed routes, and information on more than 150 summer and winter climb options.
About 60 climbers will take on the west faces of the Telecom Tower, Double Cone and the South Face of Single Cone.
Up to a dozen climbers are scheduled to tackle Lake Alta, Border Crag and Grand Couloir.
Lake Hawea resident Lydia Bradey, in 1988 the first woman to climb Mt Everest without supplementary oxygen, joins fellow adventurer Jane Morris as guides for the Adventure Consultants "Chicks 'n' Picks" sessions.
They will give female-specific instructions when they take small parties of women on multi-pitch climbs, Mr Joll said.
The festival will also include talks by experienced mixed climbers.
Guy Cotter, one of New Zealand's finest expedition climbers and mountain guides, will give a feature talk at the Saturday night awards dinner, incorporating a fundraising auction of climbing gear, clothing and sponsors' products.
Awards with prize values of $300 to $500 will be allocated for Hardest New Route of the Festival, Hardest Repeated Route and Winter Climb of the Season.
Judges will be looking for technical difficulty, length, consistency and style.
Some festival proceeds will go to the New Zealand Alpine Club Expedition Fund.