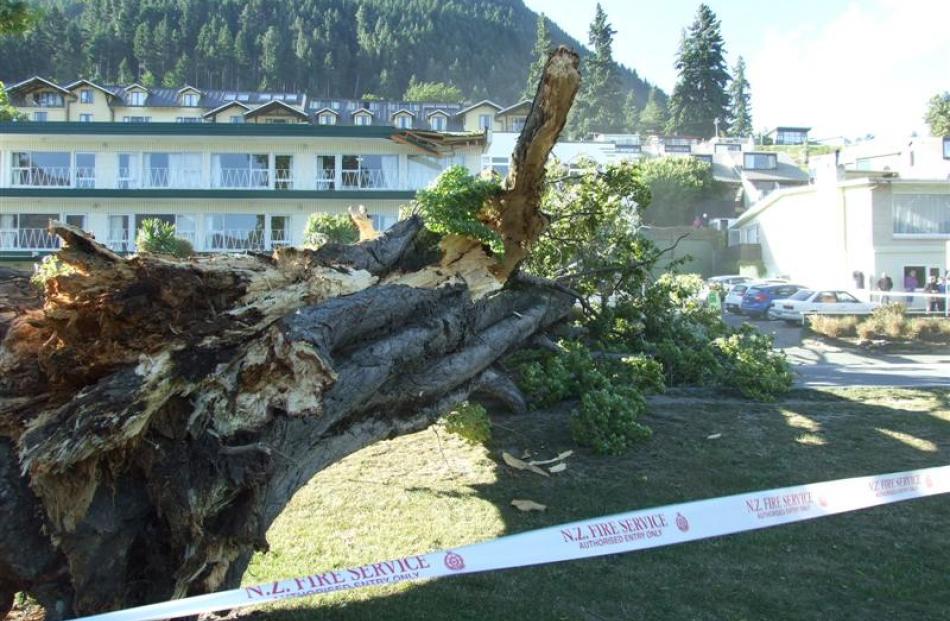 Fernhill, Sunshine Bay and Glenorchy were cut off for more than two hours last night after a large Lombardy poplar tree was blown down by high winds, blocking Lake Esplanade in Queenstown.
The tree, understood to be about 120 years old, crashed on to seven cars and also hit a corner of the Lakeside Motel's roof but fire crews said no-one was in the vehicles or had been injured.
The tree, which was growing in lakeside St Omer Park, collapsed during high winds just before 7pm damaging the cars, some more than others. English visitor John Davies, caught a glimpse of the tree coming down.
''I heard a massive thud and crash and I looked around just as the rest of it was tumbling.''
Mr Davies said he checked up and down the street before running up to Bumbles Backpackers, where he was staying, to use a phone to call for help ''but somebody had managed to sort that out''.
He said there was no-one on Lake Esplanade when the tree fell and emergency services were ''on the scene pretty quick''.
Acting Sergeant Terry Erceg, of Queenstown, said there was concern about other poplars in the area. About five motels had been evacuated by about 8pm and there were problems looming ''with people needing their medications''.
Emergency tape was initially set up around the fallen tree but the cordoned-off area seemed to grow larger after every big gust of wind, as fire crews and police feared another poplar could fall.
''I heard those ones cracking,'' Acting Sgt Erceg said, looking at the trees being battered by the gale. Traffic was banked up extensively on both sides of the fallen tree last night.
Council contractors chainsawed the tree into smaller pieces and by 10pm the road had been re-opened.
Queenstown Lakes District Council senior communications adviser Michele Poole said arborists were happy after their visual assessment of the other trees in St Omer Park last night but a more detailed investigation would be made today.
In 2009, Queenstown farmer Russell Liggett was killed metres away from his own driveway on Lower Shotover Rd when his Toyota Hilux was crushed by a 20m poplar tree blown down by high winds.
In May 2010, the QLDC applied for resource consent to remove a 30m high poplar tree in St Omer Park because it had been deemed a danger to public safety by an arborist.