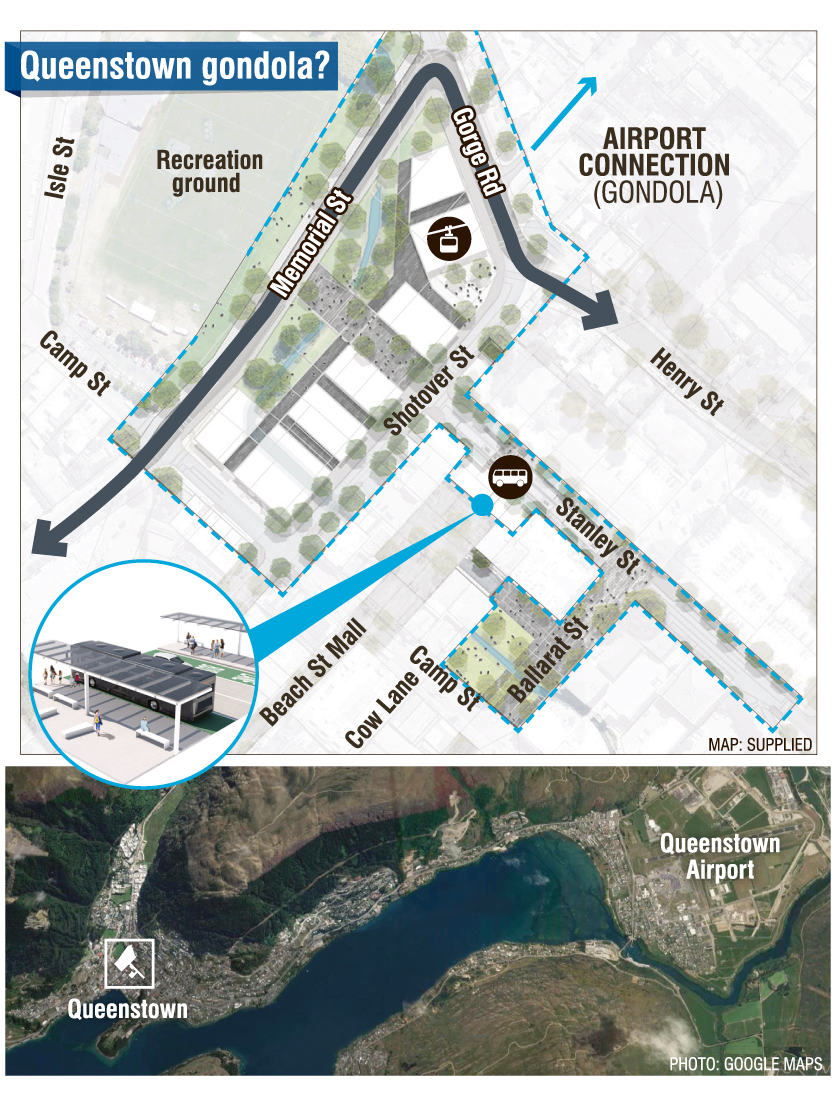 A gondola from the Queenstown town centre to Queenstown Airport, over Queenstown Hill, could be the answer to the town's transport woes, a report has hinted.
Tomorrow the Queenstown Lakes District Council will be asked to approve the resort's town centre ``spatial framework'' associated with the Queenstown town centre masterplan, which comprises $385million of work over the next decade.
Also included is a draft implementation strategy, which sets out potential timing of the work over the next 10 years.
That contains investigations of ``mass rapid transit options'' as part of stage two, between 2022 and 2023.
The document says that is for ``initial development/early works for ... terminal potential'', while an accompanying map shows a gondola terminal, located between Gorge Rd and Memorial St, to provide an ``airport connection'' over Queenstown Hill.
The council did not respond to a request for comment by deadline yesterday.
However, the Otago Daily Times understands a gondola and light rail over Queenstown Hill are two options to provide another transit corridor to and from the CBD.
It is understood, subject to investigation, physical work is not contemplated until the 2030s.
The draft spatial framework said Queenstown needed to ``reconsider and re-imagine itself not just as a town, but as `New Zealand's coolest small city'''.
The wider Wakatipu comprised about 28,000 residents but on a ``typical day'' the district's visitor population swelled to about 70,000 people, increasing to about 110,000 during peak seasons.
``This makes Queenstown the eighth-largest urban centre in New Zealand.
``A business as usual approach will not produce the significant investment that is needed to tackle Queenstown town centre's problems and unlock potential opportunities.''
The draft implementation strategy proposed, in stage one, between 2019 and 2022, ``high priority'' and ``enabling'' projects be addressed.
While the timing of all projects was subject to change, a critical element of the first stage was the new arterial route, and the construction of the first stage of it, between Henry and Melbourne Sts.
Also in stage one was ``ongoing removal'' of free parking from the town centre.
However, new parking buildings were also proposed, first at Boundary St, then at Ballarat St.
Stage one also included bus priority access along Stanley St; new bus interchange facilities; and ferry/water taxi infrastructure development in ``multiple locations'' across Frankton Arm.
However, work on the latter would not be completed until stage three.
The first street upgrades were also proposed - Upper and Lower Beach Sts, Brecon St, Lake Esplanade and a ``new shared zone'' in Rees St.
An upgrade to the Mall, which had initially been pushed out of the 10-year plan, was included in stage one, as was the new council building, planned for Ballarat St, and the ``potential replacement'' of the Queenstown Memorial Centre, subject to the chosen arterial route.
In the following three stages, between 2022 and 2028, work included the second and third stages of the arterial route; a ``new public transport hub'' in Stanley St; development of Ballarat St and the Village Green; and the ``community heart precinct'', between Stanley and Henry Sts.