Plans have been unveiled for a luxury hotel and "wellness retreat'' in a secluded valley between Lake Hayes and Arrowtown.
Winton Partners, a company associated with Queenstown developers Chris and Michaela Meehan, has applied for resource consent to build a "four-plus star'' 380-room hotel, conference centre and restaurants for an undisclosed cost.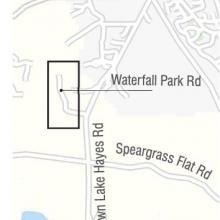 The 58-hectare site encompasses the steep-sided Waterfall Park valley - with Millbrook Resort on its northern boundary - and the historic stone buildings at Ayrburn Farm, which date from the 1860s.
The proposal is the couple's latest attempt to develop the area after three proposals lodged under special housing area rules were stymied by the Queenstown Lakes District Council.
Winton Partners general manager Oliver Leighs said, in a media statement, the development would allow public access to the valley's spectacular waterfall and an "extensively restored natural landscape''.
It would include a wellness centre, wedding chapel and outdoor pavilion, and Ayrburn Farm's historic stone buildings would be restored and repurposed as a restaurant and bicycle rental facility.
Mill Creek, which runs along the valley before flowing into Lake Hayes, would be enhanced "ecologically and aesthetically'', Mr Leighs said.
Destination Queenstown chief executive Graham Budd said the proposal looked "exciting''.
"We are supportive of quality developments that continue to build on Queenstown's world-class offering.''
Friends of Lake Hayes secretary Richard Bowman said the group was not opposed in principle to development in the lake's catchment, but it came with risks.
"As you remove vegetation and put in buildings, there is potential for contaminants to escape into the creek and the lake.
"It's all very well putting in conditions in a consent, but we would want to ensure the council maintains and monitors those conditions, particularly during times of high rainfall.''
Tourism Industry Aotearoa (TIA) hotel sector regional representative Brian Howie said the proposal was the latest addition to a list of hotel developments that had recently opened, were under construction or in the planning process.
Mr Howie said it was a "sensitive'' issue for him to comment on given his position as director of operations at Millbrook Resort, but any new hotel development could contribute to future over-capacity in the Queenstown area.
"While occupancy and room rate is a positive at the moment for hoteliers, there's got to be a balance struck.
Winton Partners lodged a separate resource consent in November for road access to the site from the Lake Hayes-Arrowtown road. A publicly notified hearing for that application will be held over two days next week.
The Meehans are behind the Bridesdale Farm and Lakes Edge developments in Queenstown, the Northlake subdivision in Wanaka and an 840-section subdivision proposed for Cromwell earlier this month.
They have lodged three other proposals for the Waterfall Park-Ayrburn site since 2015, all of which have been rejected by the council. Two were residential developments for between 140 and 150 homes, and the other was a 201-unit retirement village.
In its application for one of the proposals, Winton Partners said Waterfall Park was uneconomic to develop because of its topography, ground condition and poor road access.