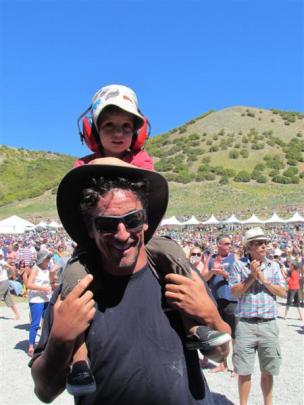 With the draw of Pat Benatar in town, visitors to Queenstown struggled to find somewhere to stay as the resort enjoyed more guests over the weekend than at New Year.
Tourism Industry Association Queenstown regional chairwoman, hotels, Penny Clark said the Gibbston Valley Summer Concert, headlined by Pat Benatar and Neil Giraldo, ''really hit the scales''.
''And then, of course, we've got our summer business so it compounded the situation,'' Ms Clark said.
The popular concert was attended by 15,000 people. The resort and its surrounds are in for a busy week.
The NZ PGA Pro-Am Championship starts at The Hills on Thursday and ends on Sunday and the England v New Zealand XI four-day warm-up cricket match begins at the Queenstown Events Centre on Wednesday.
However, Ms Clark said hotels were not yet booked out.
''We're certainly not getting the vibes that we're booked out,'' she said, speculating the sporting events would have more of a local attendance.
Performing on the same stage as Benatar and her husband, guitarist Neil Giraldo, America and the reunited Bachman and Turner were two local acts originating from Wakatipu High School.
Alpine Effect, a seven-piece jazz band, may have performed at its last, and certainly biggest, gig.
Trumpeter Tom Gray said that as some of the band members were still attending Wakatipu High School and the other half had moved on to university, he suspected Saturday was ''our last gig together''.
Some of them had played at the summer concert series last year, to a smaller crowd, but Gray was pleased to say the band had truly ''gone out with a bang'' in performing to 15,000 - which is more than half of Queenstown's permanent population.
''Not many people would believe you if you said you played in front of 15,000 people,'' he saidFollowing Alpine Effect and fellow local band the Fletcherz was America. Gray said the guitarist from the international classic rock band was highly complimentary about the opening act.
''We were quite stoked to hear that.''
Fletcherz member George Hartshorn said despite the nerve-racking moments before the band played to the large crowd, performing in front of so many was inspiring and motivating.
Fletcherz vocalist Sam Maxwell gave a faultless performance, despite having his appendix removed only two weeks earlier, and it was business as usual later that night when the band performed at Arrowtown night spot New Orleans Hotel.
''Our next step is writing our EP,'' Hartshorn said.