Tomorrow's annual plan meeting in Balclutha is ''pivotal'' for the Clutha district, its mayor says.
The Clutha District Council meets tomorrow morning to finalise decision-making for its 2019-20 annual plan, for which 158 submissions were received this year.
Clutha Mayor Bryan Cadogan said council strategy during recent years had focused on fulfilling its Living and Working in Clutha policy.
Many of the projects under consideration tomorrow were ''defining'' for the district's aspirations, and would begin to ''rejuvenate'' main centres Balclutha and Milton.
Among items up for decision in tomorrow's agenda are proposals for a new or upgraded pool and service centre in Milton (upto $5.8million); seed funding for the Naish and Centennial parks upgrade ($250,000); and several smaller community enhancement projects across the district.
The parks upgrade was identified during the Our Place Balclutha consultation process in 2017, and a community steering group formed in September that year.
Naish Park Co-ordinating Group chairman, Balclutha businessman Jared McPhee, said the time had come to ''get the ball rolling'' on the practical business of redeveloping the neighbouring Balclutha parks.
''There are two things we'd like to see tomorrow. We'd like council to formally adopt our concept plans for the parks, and approve seed funding of $250,000 to allow us to start the first three phased elements in Centennial Park.''
Those were tree planting and site preparation; a new junior bike park; and a dog park.
No final costings for project elements, nor a total cost estimate were available at this stage, Mr McPhee said.
''We need to get concept approval first, then we can work on the costings and seeking additional external funding.''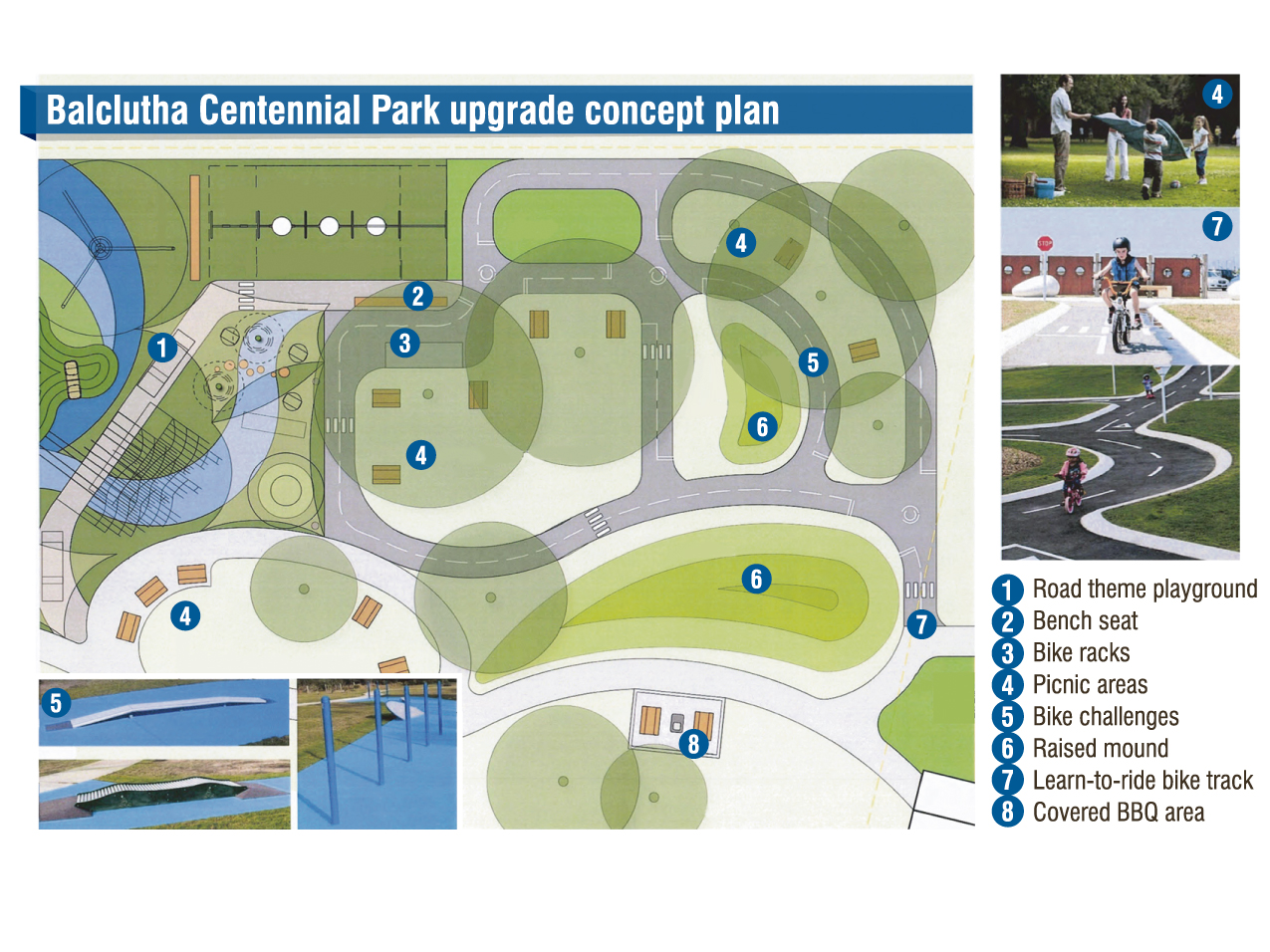 Council documentation indicates it would fund any park projects on a 30:70 basis with ''external third parties'', yet to be identified.
Mr McPhee said his committee was ''eager and excited'' to be on the cusp of tangible progress for the project.
That excitement was mirrored by Mr Cadogan.
''We've been out and asked the communities what they want, and we've identified and developed projects that will help achieve those aspirations.
''Now the rubber hits the road.''