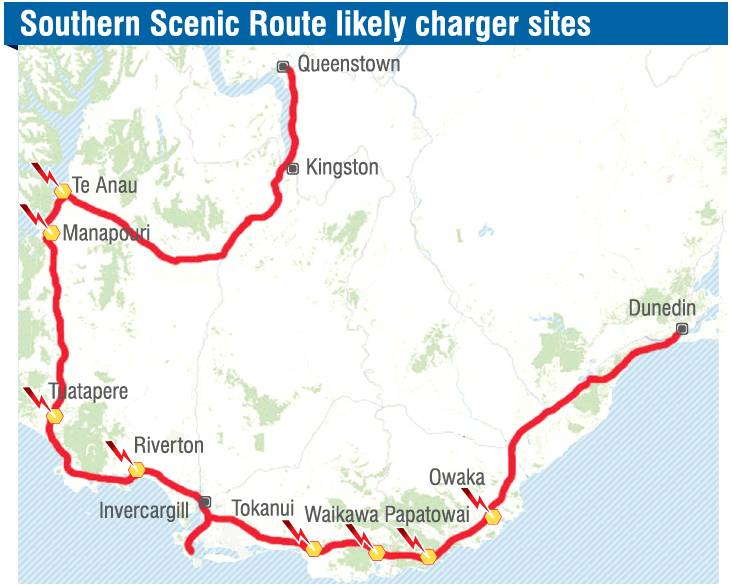 The installation of eight electric vehicle chargers on the Southern Scenic Route will bridge a ''missing link'' in the region's electric vehicle network.
In a regional partnership, PowerNet, ChargeNet and Venture Southland received $164,500 of funding from the Government's Low Emission Vehicles Contestable Fund to install the chargers along the southern highway.
Venture Southland business projects co-ordinator Isabel Huther said installing the chargers would complete the region's network for electric vehicle users.
''We've got all the infrastructure now to go from Invercargill to Queenstown, and to go from Invercargill to Dunedin, but the Southern Scenic Route hadn't had any connection yet, so it's just really nice having more provisions for tourists and for locals to use,'' Ms Huther said.
Public interest in electric vehicles was gaining momentum in Southland, and installing the chargers along the highway would provide security for drivers, she said.
''We've had a lot of feedback, especially from Te Anau and Mossburn.
''There's a lot of locals who are really interested in seeing the infrastructure being put in place.
''Often they don't actually need the infrastructure because the vehicle will last the distance, but it's just providing extra security to make sure they feel safe and know they can travel.''
PowerNet chief information officer Tim Brown said
the route tended to attract eco-tourism, and providing electric vehicle chargers was a ''natural fit'' for the area.
PowerNet and ChargeNet will soon tour the route and consult with communities throughout the region to determine the most suitable locations for the chargers, which are due to be installed over the next several months.