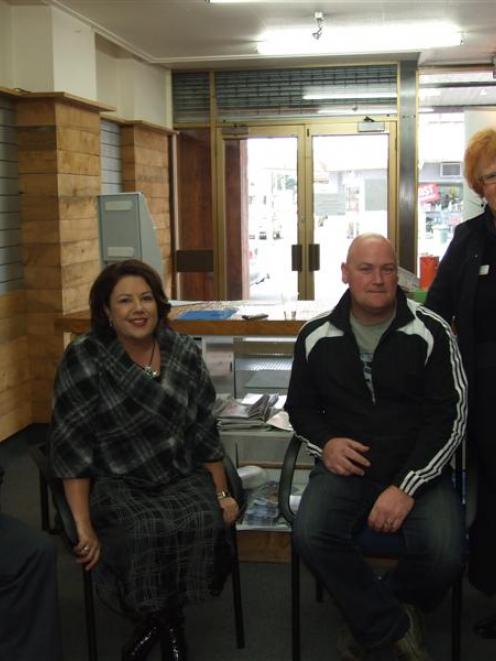 Paula Bennett travelled to Balclutha yesterday to meet youth workers and talk about Clutha's approach to youth development.
On what was her first ministerial visit to Balclutha, the Minister for Social Development, Employment and Youth Affairs met youth co-ordinator for the Making A Difference (Mad) programme Daniel Maze, youth co-ordinator for South Life Apostolic church Kayleigh Broad, Buddy Programme chief executive Gillian Bremner and manager Russell Beal.
Ms Bennett said she realised quickly there was not going to be one nationwide programme that catered to everyone's needs, and she had come to Balclutha to learn what providers thought was working for them here.
The providers spoke about the type of work they do in the community, areas in which they were succeeding and where the Government could best assist them.
Many youth providers believed they were running unique programmes, which was not always the case, Ms Bennett said.
The minister plans to examine the state-funded programmes that exist in the community for similarities and differences, so the gaps that young people are slipping through can be identified.
Ms Bennett also said she would announce the "home for life" initiative next week, which will offer increased support for people who take on foster children.
The minister said that at any one time there were 5500 children in state care, and she was "breaking down barriers to keep them in permanent homes".
"We have removed the children. We try to get the parents in to a place where they can be returned, which doesn't happen very often."
Foster children can spend a year waiting for a permanent place, meaning children as young as 4 could be in transition for a year before being placed in permanent care.
The people who took on children were often worried the State would withdraw support, she said. The "home for life" initiative would provide care-givers with ongoing assistance to help with counselling and other support services needed, she said.
An upfront payment of "a couple of thousand dollars" would be made to foster parents to acknowledge the costs involved with fostering children, and pay any legal costs.