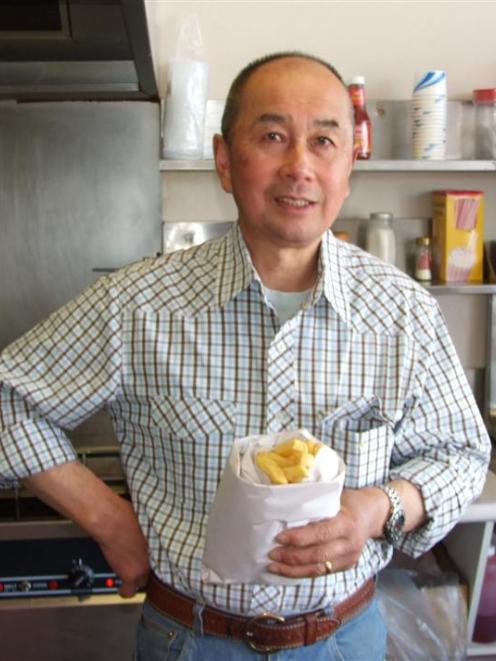 After more than 40 years in the business, fish and chip shop owner and Balclutha stalwart Nelson Wong has retired.
Since selling the business in August, Mr Wong has finally taken some time for himself, after 45 years of being the heart and soul of the favourite fish and chip shop.
Mr Wong worked in Milton at his parents' greengrocer and fish and chip shop before moving to Balclutha to start his own business - Clutha Fish Supply.
The name changed to Wongy's Cod and Taties a few years ago, a marketing strategy which was embraced by its patrons who affectionately dubbed it "Wongys".
The Clyde St takeaway shop has changed over the years, but has never moved premises, with the biggest change seen in the menu, he said.
A North Islander by birth, Mr Wong first moved to Milton with his family, before buying the takeaway shop in Clyde St, Balclutha.
"Balclutha is a good location; a nice rural town in a nice rural area."
One of the best things about the shop was meeting a variety of people from Otago and Southland, New Zealand, and from overseas.
"I've made lots of friends and loyal customers from all over the place."
He and wife Jackie have five children - Angelina, Christiane, Dominique, Claudine, and Pierre - although only Pierre, the youngest, still lives at home. He is head boy at South Otago High School.
"It's been a family shop. All the kids grew up working there and we've run it together over the years," Mr Wong said.
He had made no major plans and enjoyed living in Balclutha.
"Now I'm the head gardener at home," he joked.
Balclutha real estate agent Stuart McElrea remembers working for Mr Wong after school when he was a teenager in the 1960s.
"In those days we'd have people from the freezing works come in and open a sack of oysters in the evening for a bit more money. Nelson was always a good employer - we thought of him as a bit of a James Bond character as he had a gold Mark II Daimler V8 and he even let us travel with him in it."
The fish and chip shop had never changed and had become part of the community, he said.
"Nelson's a great member of the community, he was always there, and always involved."
Mr McElrea said he would always have fond memories of working at the shop, which had also employed two cousins.
A long-time friend of Nelson, real estate salesman Bryan Hayden said Mr Wong had contributed a lot to the Clutha district.
"He's supported and contributed to the community from behind the scenes. Nelson's a very modest and caring man who has always been there for others."