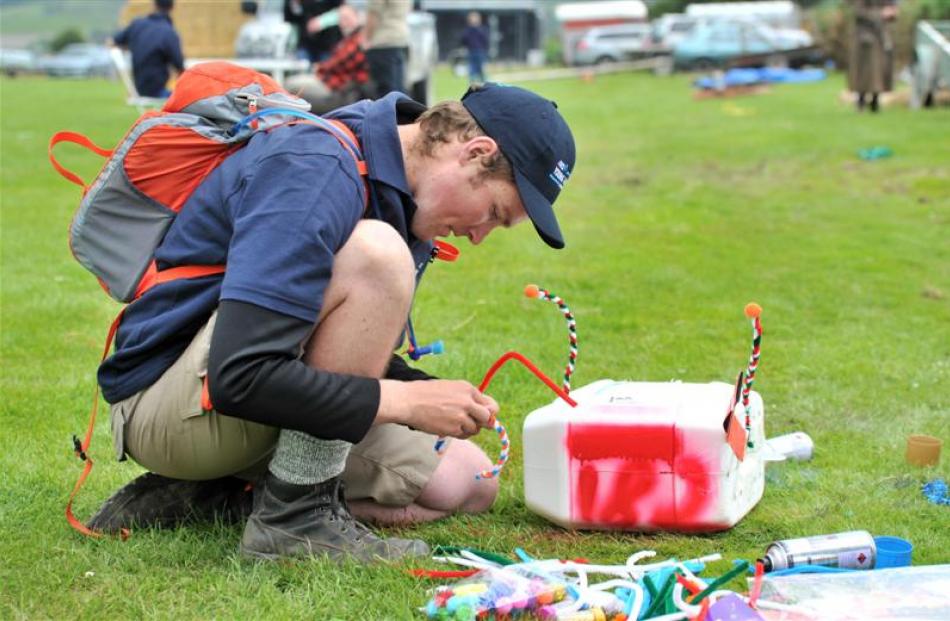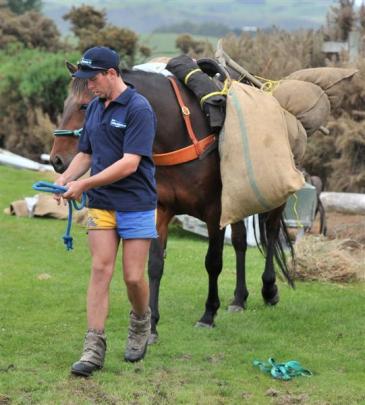 Pig hunting means a lot to Milton.
So when the Tokomairiro Young Farmers hosted the 2014 Otago district final for the ANZ Young Farmer contest, 19 competitors from across Otago hauled a pig carcass over straw bales, through tyres, over logs and under a tarpaulin to simulate the real thing.
The obstacle course was just one of 16 practical challenges at the Young Farmers district finals held at Milton's Tokomairiro A&P show on Saturday.
The chairwoman of Tokomairiro Young Farmers, Stef Panko, said the club had gone to some lengths to prepare as host for the district finals, including putting a Milton spin on the challenges for competitors.
''We tried to keep everything true to the area we're in and the people in the club,'' she said. Dairy farmer Michael Marshall, of Tapanui, said he was ''pretty knackered'' after hauling the pig carcass through the obstacle course five times.
He said it was the most difficult of the challenges the Tokomairiro Young Farmers had dreamed up for the day.
''That was probably the most fun and the most challenging. It's pretty hard case,'' he said. Members of the club went hunting last week to collect a pig for the obstacle course, Ms Panko said.
''We put it in a chiller and yesterday we took it out and it was frozen solid. We were worried it was going to be a big hunk of frozen meat today, but it's all thawed now.
''Someone threw it over the straw bale and broke its back, so now it's a bit bendy.''
The traditional challenges of fencing, stock judging, and health and safety were complemented by a suite of ''practical modules'' such as wool sorting, identifying seed and fertiliser, assessing the health of cows, firearm safety, a number of academic exercises, a ''gut buster'' workout, and stacking tyres on a fence post with a digger, she said.
''We sort of looked back at what they'd done over the last few years so we wouldn't copy that. We tried to do something different,'' she said.
''We tried to cover lots of different aspects, and we tried to make it even for all different types of farming.''
The 16 practical modules were followed by a night-time quiz at the Toko rugby club for the farmers who survived the first round.
Mr Marshall applauded the 2-year-old Tokomairiro Young Farmers club in its first attempt at hosting the district finals. The challenges they created were inspired, he said.
''They were way different. They were awesome.
''It's not your normal everyday sort of stuff.''