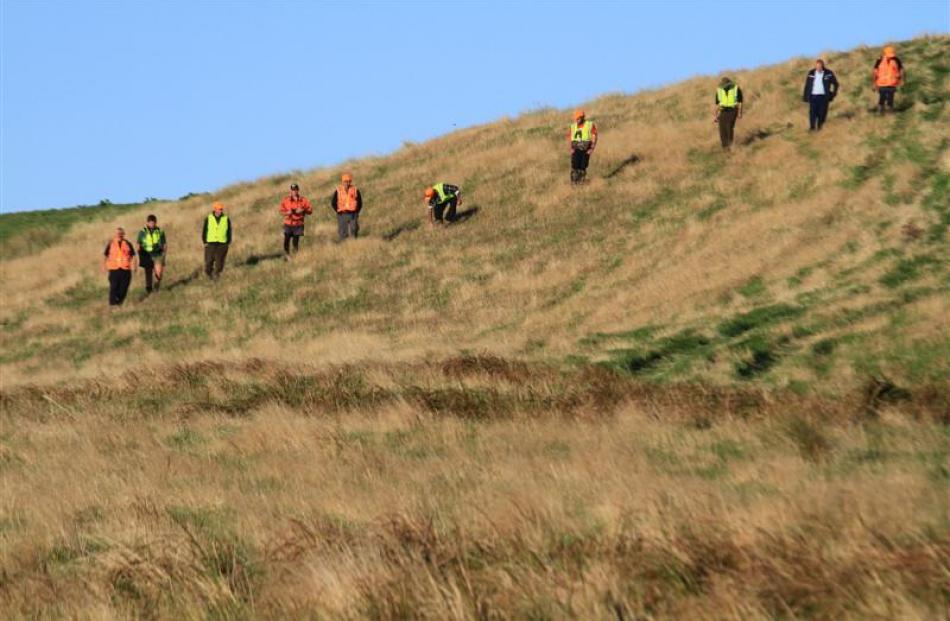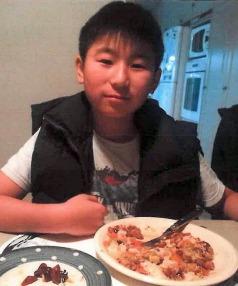 The police national dive team has discoverd an oil slick during its search of Curio Bay this morning, after possible car wreckage was found washed up in the area during the weekend.
Debris - which appeared to be from a car - was found in the area, where police are searching for 11-year-old Mike Zhao-Beckenridge and his estranged stepfather John Beckenridge, during the weekend, Detective Sergeant Mark McCloy said.
Police divers also found an oil slick near the coast of Curio Bay this morning. 
It was yet to be confirmed the wreckage was related to the search or from Mr Beckenridge's dark blue Volkswagen Touareg station wagon, but inquiries were continuing, Det Sgt McCloy said.
The oil slick was discovered during a cursory search by the dive squad this morning.
It is understood another search may take place tonight and a helicopter may be called to assist.  
No vehicle has yet been found but debris was seen piled on the beach this morning.  
"Our dive boys are working pretty hard for us to resolve that at the moment,'' Det Sgt McCloy said.
Police were concerned for the safety of Mike and Mr Beckenridge.
"We have been concerned right from day one - very concerned about [Mike's] well-being. That hasn't changed,'' he said.
Police staff and LandSAR volunteers were continuing to search for the pair, who have not been seen since March 16, in the Catlins.
11 days without contact 
The pair have been missing since March 13.
Mr Beckenridge is Mike's estranged stepfather and their contact is in breach of a parenting order, police say.
The pair were last seen near Slope Point in the Catlins on March 16. A farmer told police he spotted the pair in remote bush in the Catlins.
Police staff searched extensively in the Haldane and Tokanui areas in Southland during the weekend, Det Sgt McCloy said.
"We really want to resolve this situation.
"We understand that John may have grievances about a recent Family Court decision in relation to a parenting order but the current situation is not the best way to resolve things.
"John can call me via (03) 471-4800 at any stage and talk with me personally about his situation.
"We understand that John and Mike have a good relationship so we are keen to work to resolve this".
The police national dive team yesterday joined the search in the Catlins for the Invercargill boy and his estranged stepfather.
Search co-ordinator Sergeant Ian Martin, of Invercargill, said the Wellington-based dive team spent a short time near Curio Bay yesterday, but left the area about 6pm because conditions were too rough.
It resumed the search of the area this morning.
Police call for help  
In a statement this morning, Southland Area Commander Inspector Kelvin Lloyd said: "While there is a possibility of something, including a car, being in the water, there is still nothing that confirms this".
Police were still dependant on sightings of the pair throughout Southland, and Insp Lloyd urged anyone with information to contact them.
"We would like to thank those members of the public who have helped us so far in our search and given information,'' he said.
"Our ultimate goal is to find Mike and John so we know they are safe.
"Even though we have received some information already from members of the public, if you know of anything else, no matter how small it may be, it may help us to locate them.''
Sgt Martin said smaller teams would search "areas of significance'' today, but he could not comment further as it was considered a criminal investigation.
John Beckenridge is also known as John Robert Lundh, Knut Goran Roland Lundh, or John Bradford.
The pair are thought to be travelling in a dark blue Volkswagen Touareg station wagon, with the registration number DUY263.
Mike is 1.65m tall, of solid build and of Asian descent. John Beckenridge is 1.75m tall, of medium build and of Swedish descent.
If anyone sees the pair they should contact police on 111 immediately.
Anyone with information that might assist in locating the pair should contact the Southern District Command Centre on (03) 471-5002.