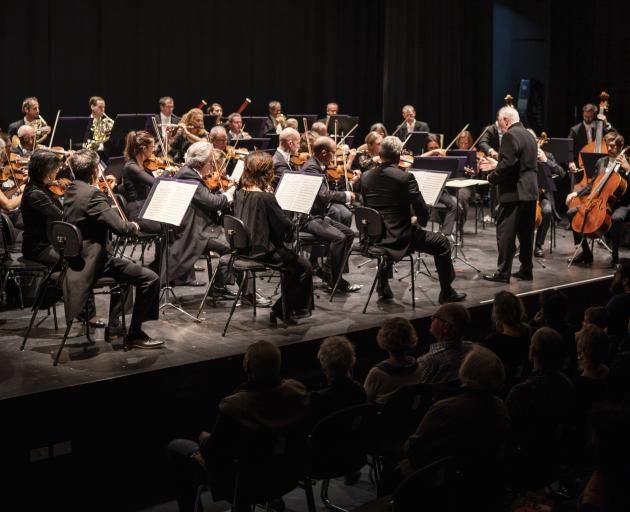 The New Zealand Symphony Orchestra provided a fine festival finale with a spirited rendering of Handel's regal
Water Music.
The chamber orchestra crammed on stage presented a good-humoured, joyous performance. The stately baroque crowd-pleaser was a nice bookend to close on, following the festival opener from baroque master Jordi Savall.
After a week's wide variety of musical entertainment, the quiet, intimate Songs of Travel from baritone Julien Van Mellaerts and pianist James Ballieu lingers long in memory, but the most upbeat for me was Sunday's final show at the Pacific Crystal Palace.
Funky and fun, vocalist Lou'ana let loose on a mix of jazz, blues and soul with tremendous energy and personality, backed by a
standout quartet who understand light and shade and the need to take turns.
Lou'ana's husky, smoky voice was born for jazz, strong and emotional in classics such as I Put a Spell on You, fun and flirty in Duke Ellington's Just Squeeze Me, and pure joy scat singing.
Fine work, too, from Dillon Rhodes (keyboards) and guitarist Jason Herbert, who struggled manfully with broken strings and still delivered memorable, er, breaks. A big, warm, driving sound with feel-good written all over it.
Joint favourites for best theatre: puppetry to rival The Simpsons in Bruce, and My Best Dead Friend for sustained laugh-out loud tragicomedy at breakneck pace.
Dance? Fringe delights were Chloe Loftus' aerial Tree Dancer, and Carol Brown's surprisingly spiritual audio-walk to the lake, which earns best bravery award for the staunch dancer actually in the water.
The Royal New Zealand Ballet's triple bill Strength and Grace was superb, but the sheer unrestrained energy of the New Zealand Dance Company's Kiss the Sky just edges in front to take my pick of the 2019 festival. Roll on 2021.