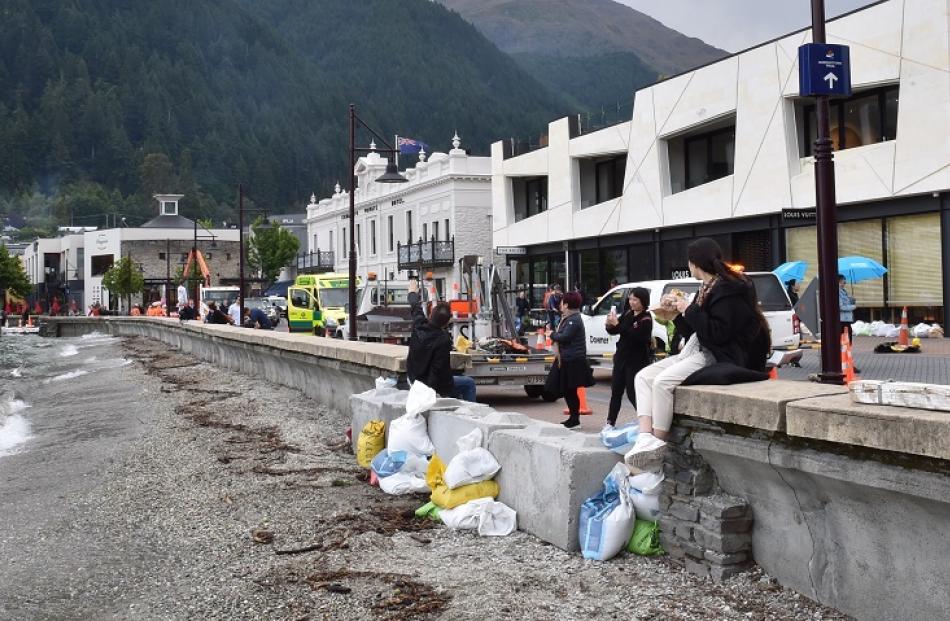 The Wanaka CBD is all but empty as the town prepares for the flood waters to enter Ardmore St.
Earlier story: 
This afternoon the Queenstown Lakes District Council (QLDC) said the latest modelling from the Otago Regional Council (ORC), which has factored current rain events, predicts Lake Wakatipu will now peak on Monday morning at 311.4m and Lake Wānaka at 280.5-280.8m.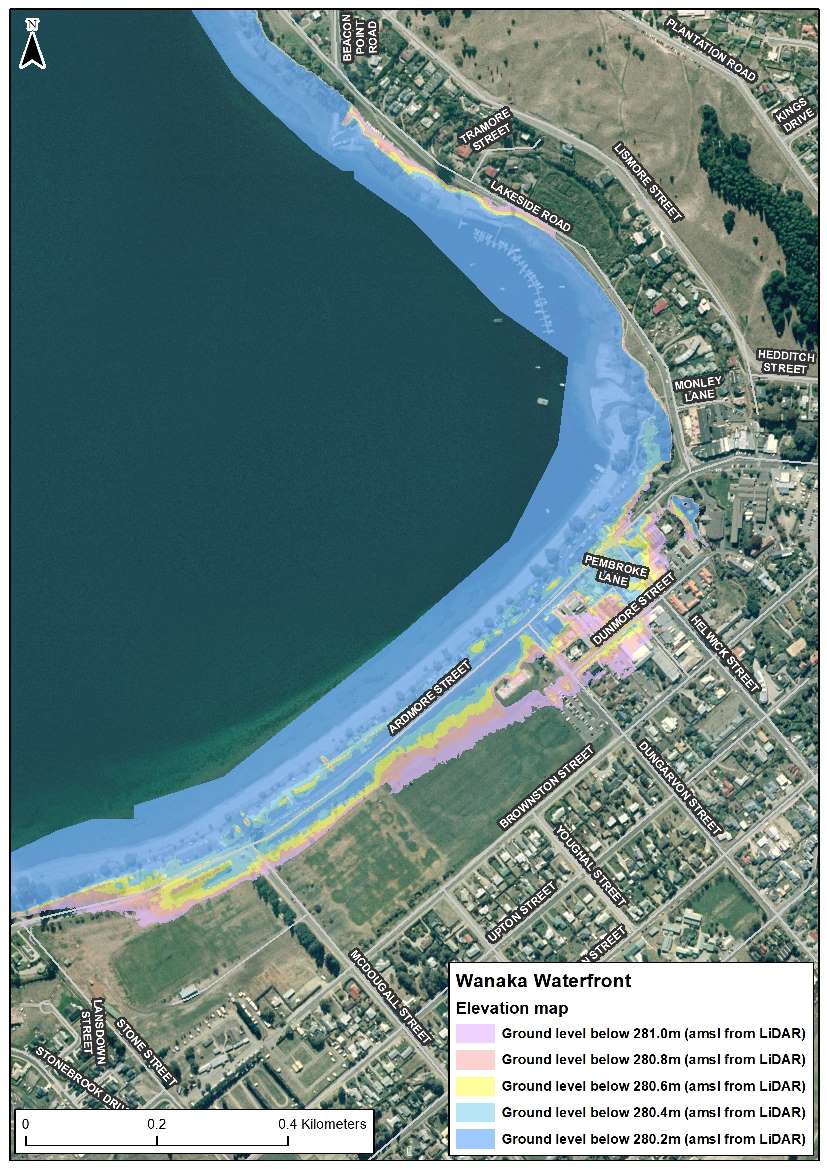 However, there is a severe weather warning for the headwaters of the Otago rivers and lakes and ORC warn lake levels and river flows will continue to be high for some weeks, meaning there is a continued risk of further flooding.
This afternoon Metservice issued a heavy rain warning which is in effect until 9am tomorrow.
The ORC said modelling based on past events predicts that both Lake Wakatipu and Lake Wanaka will take around 19 days without further rain to return to average December levels
"To return to normal levels, Lake Wanaka will need to drop more than 3m, and Lake Wakatipu a little over 1.2m. Coincidentally, given the different capacities and outflow rates of each lake, they will take roughly the same amount of time to decrease to normal levels."
The QLDC said today it had temporarily closed all lakefront public toilets in Wānaka as a precautionary measure. 
The Marine Parade public toilets in Queenstown would also be sandbagged and closed later this afternoon. In the meantime, Wānaka's Pembroke Park and Queenstown's Earnslaw Park toilets will remain open for public use.
Portaloos would be installed at several locations in the Wanaka. 
The town's residents are being advised to take pre-emptive steps to protect their belongings.
Insurance Council of NZ chief executive Tim Grafton said that for those in the flood zone "now is the time to take action - move your car out of flood danger and start to put valuable goods higher up in the house - especially those important Christmas gifts!"
Mr Grafton said anyone experiencing flood damage should contact their insurers as soon as possible to start the claims process. "Be sure to take photos and note details of any valuable items purchased for Christmas that might not be noted on insurance policies yet."
Local businesses should also ensure they have taken action. "Lake side cafes and restaurants should not only be moving items out of potential flood levels, but also ensure that grease traps are sealed off to prevent contamination damage in the event of flooding." 
Overnight in the town, water had started to enter the Dinosaur Park playground and this morning contractors were out sandbagging the public toilets near the log cabin.
A reporter at the scene said water in the lake front car parking area in front of the log cabin has now risen to above ankle height and is full of floating debris.
At this time of year the shops and cafes of Wanaka would normally be overflowing with tourists and visitors but there were just a handful of individual tourists wandering around appearing not to know what to do or where to go, she said.
Almost all the shops and offices in the two flood prone water front blocks between Bullock Creek and Dungarvon and Helwick Sts are closed and covered in sheets of plastic and sandbagged.
The town is well prepared for the flood, it is just waiting.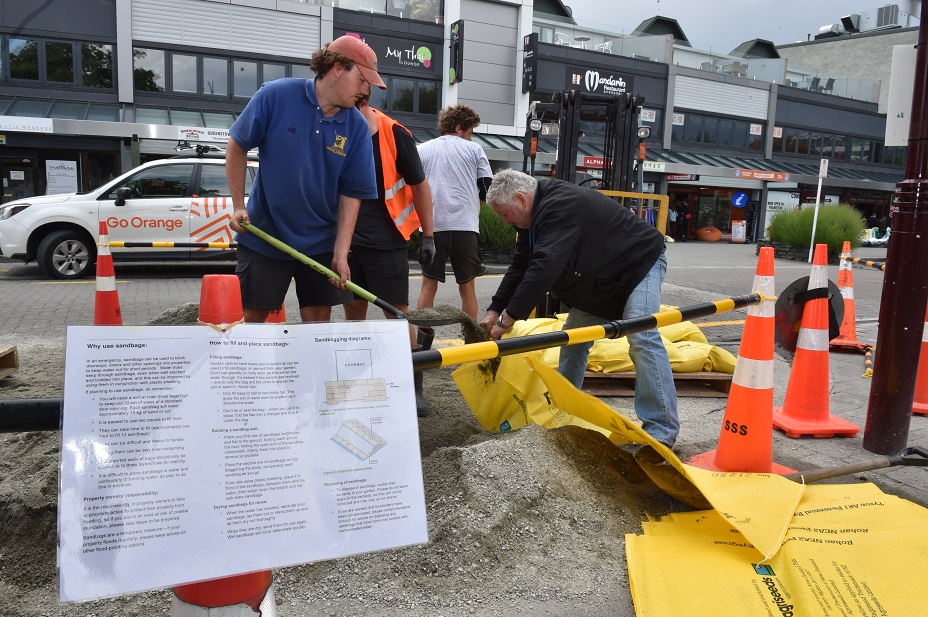 Precautionary measures are still being undertaken and debris clearance is continuing on Queenstown Beach and the Wanaka lakefront.
Wastewater remains isolated on Ardmore Street and lower Helwick Street in Wanaka.
More sand and sandbags are available at all locations in Wānaka, Queenstown, Glenorchy and Kingston.
Road closures remain unchanged. These include Paradise Road, Rees Valley Road, Kinloch Road, Mt Aspiring Road, The Branches Road (from the boulders), Mt Aspiring Road (from Roys Peak) and Ardmore Street (Lakeside Road to McDougall Street).
Meanwhile, in Queenstown, Alan Bouglas, general manager of lake front pub Pog Mahones, said staff decided to put sandbags and tarpaulin sheets in place as a "precautionary measure".
"It is not too major right now but after seeing the rain forecast for today we decided to put things in place late last night."