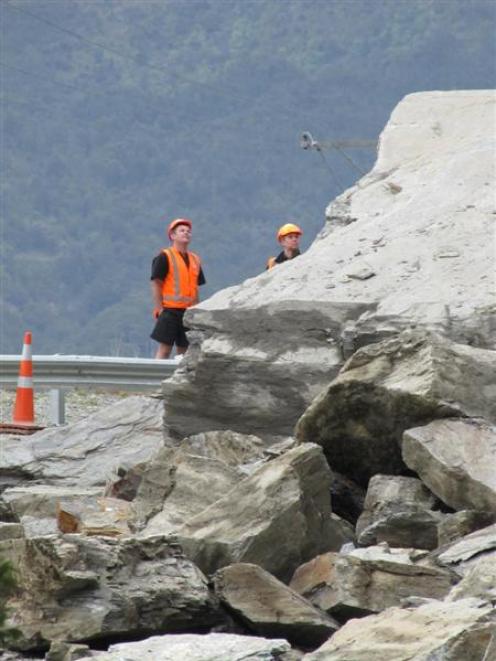 Wild wind on Wednesday cut electricity to 1400 customers in Southland and Otago and closed roads and skifields.
Recent rain and wind are thought to have been the cause of a slip that kept State Highway 6 - the only direct road link between Otago and Westland - closed for most of yesterday after a road maintenance team noticed rocks falling from Izzy's Bluff, above the road, 16km south of Makarora, on Wednesday night.
One lane reopened at 4pm yesterday and the road was expected to be fully open in the middle of next week.
PowerNet general manager operations Gary Pritchard said electricity was restored to southern homes by noon yesterday, with the worst-affected areas Stirling, Warepa, Charlton, Mandeville, Otamita and Ardlussa.
A power line was brought down on the Balclutha bridge yesterday morning. Senior Constable Graeme Ferguson said two truck drivers saw the lines were down and blocked the road before calling the power company.
Traffic delays lasted about 20 minutes as linemen worked to fix the lines.
Meanwhile, the risk of avalanche due to snow melt meant the closure last night of State Highway 94, Te Anau to Milford, and high winds the closure of Coronet Peak, Remarkables and Treble Cone skifields from yesterday morning.
There were reports yesterday of rocks breaking windscreens in the Remarkables car park due to the high wind gusts.
Opus senior geotechnical engineer Rob Bond told the Otago Daily Times the Makarora slip, including some very large boulders, was likely to have been brought down by wind and heavy rain.
Makarora received 158mm of rain in the week between August 30 and September 5, according to the latest Otago Regional Council figures.
The amount of material in the slip was estimated at about 1000 cubic metres or 100 truckloads.
Helicopter operator Harvey Hutton used a monsoon bucket to drop water on the top of the slip, 50m above the road, to dislodge further loose material, until strong winds stopped the helicopter operation late in the morning.
A digger was able to make the slip safe enough for one lane to be opened late yesterday afternoon.
Mr Bond said further work would be done on the slip today to allow the road to be fully reopened. The road is carved out of a steep hillside above Lake Wanaka, and continues on through the Haast Pass.
Courier Post driver Matt Webb carrying, among other things, the ODT newspapers for the West Coast, was one of those held up on the south side of the rockfall for more than six hours. He also had a bunch of fresh flowers ordered for a woman at Haast by her husband, and "frozen" venison.
Mr Webb, who has driven 1.3 million kms on his run between Clyde and Fox Glacier in the last seven years, said rocks had been falling for about a week. He often stopped to clear the road.
- Additional reporting by Nicholas McBride, of the Greymouth Star.