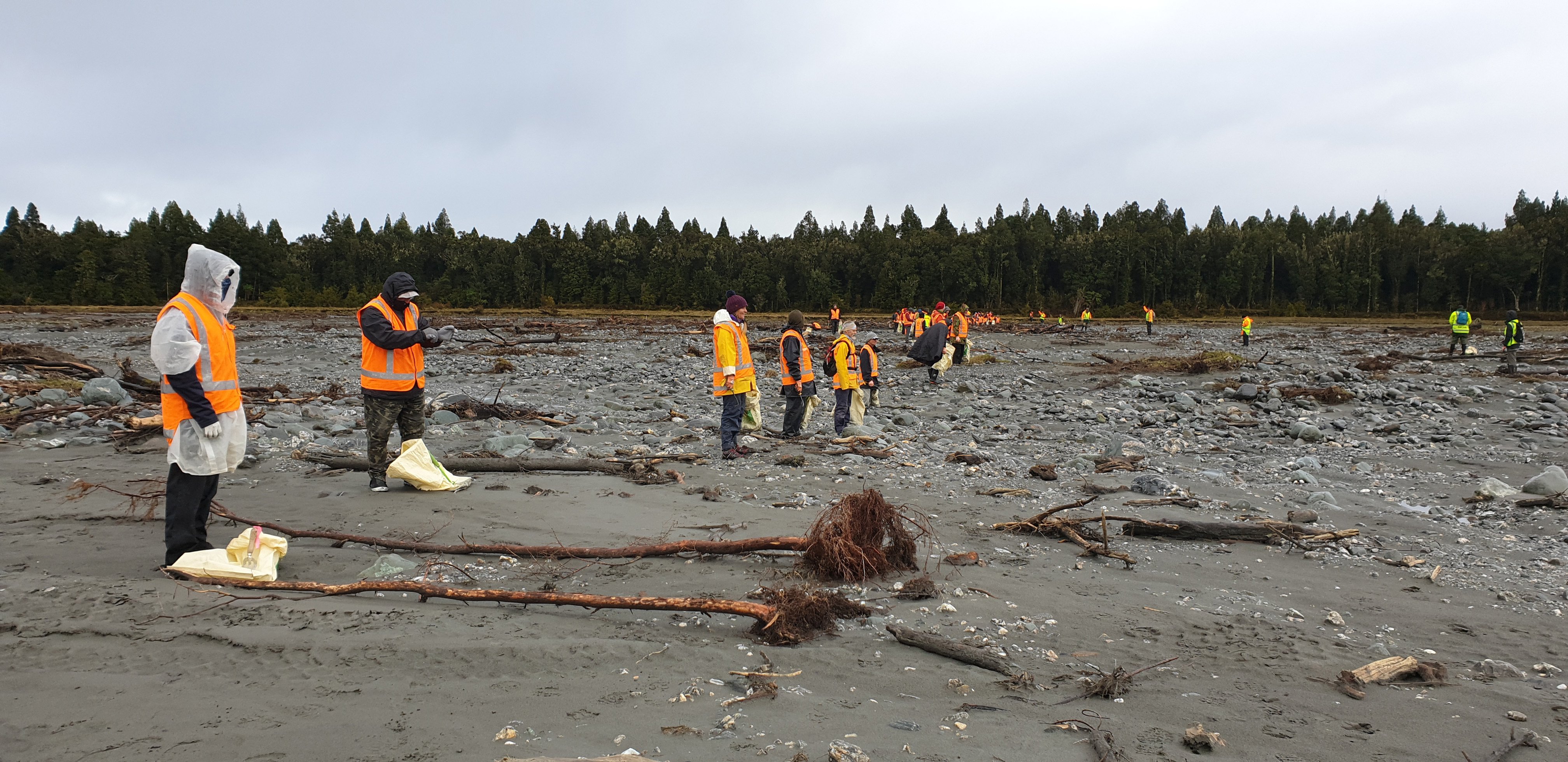 Otago Daily Times columnist Elspeth McLean was one of hundreds of volunteers who responded to the call from Operation Tidy Fox to help clean up the mess after severe March rain dislodged an old dump near the Fox River on the  West Coast.  She reflects on her rubbish holiday at Fox Glacier.
A few weeks ago, if you told me the highlight of my day would be bouncing around in the back of an army all-terrain vehicle after a day picking up other people's rubbish, I might have questioned your sanity.
But that was before I joined the clean-up crew at the Fox River.
Like many other volunteers, I felt compelled to join Operation Tidy Fox after seeing media accounts of the enormity and urgency of the task to remove as much rubbish as possible before the spring rain.
Fox River Clean-up
864 people have worked 2912 volunteer days.
New Zealand Defence Force has contributed 1090 days.
Doc staff: 681 days.
Taskforce Green: 123 days.
More than 13,000 bags of rubbish have been removed from the Fox and Cook Rivers and coastline of South Westland to another landfill.
— Source: Doc
For me, that compulsion was also fuelled by the need to feel useful. Bruised after leaving a part-time job I had loved (following a dispute over conditions), I'd spent much of the year questioning my relevance to the work force.
Would anyone still need me and feed me now I was 64? Well, yes. Operation Tidy Fox, being led by the Department of Conservation, would pay for my accommodation, morning tea, lunch and dinner, if I could get myself to Fox Glacier.
Legitimate questions were asked domestically about whether I was running away from tidying up the aptly named junk room, so, as part of my training regime, I incorporated rearranging the mess so I could open the door.
My companion eyed up the flapping, frequently glued soles of my walking/biking shoes and kindly shouted me a new pair of boots. Of course, he tried to decree the colour but at least the resulting repartee entertained the shoe salesman, who gave us a discount (possibly to get us out of his shop without an ugly incident).
Would I be able to cope with the physical demands of rubbish collecting for 10 days? I sought the opinion of one of the offspring who could be relied on to give me an honest answer. He was confident.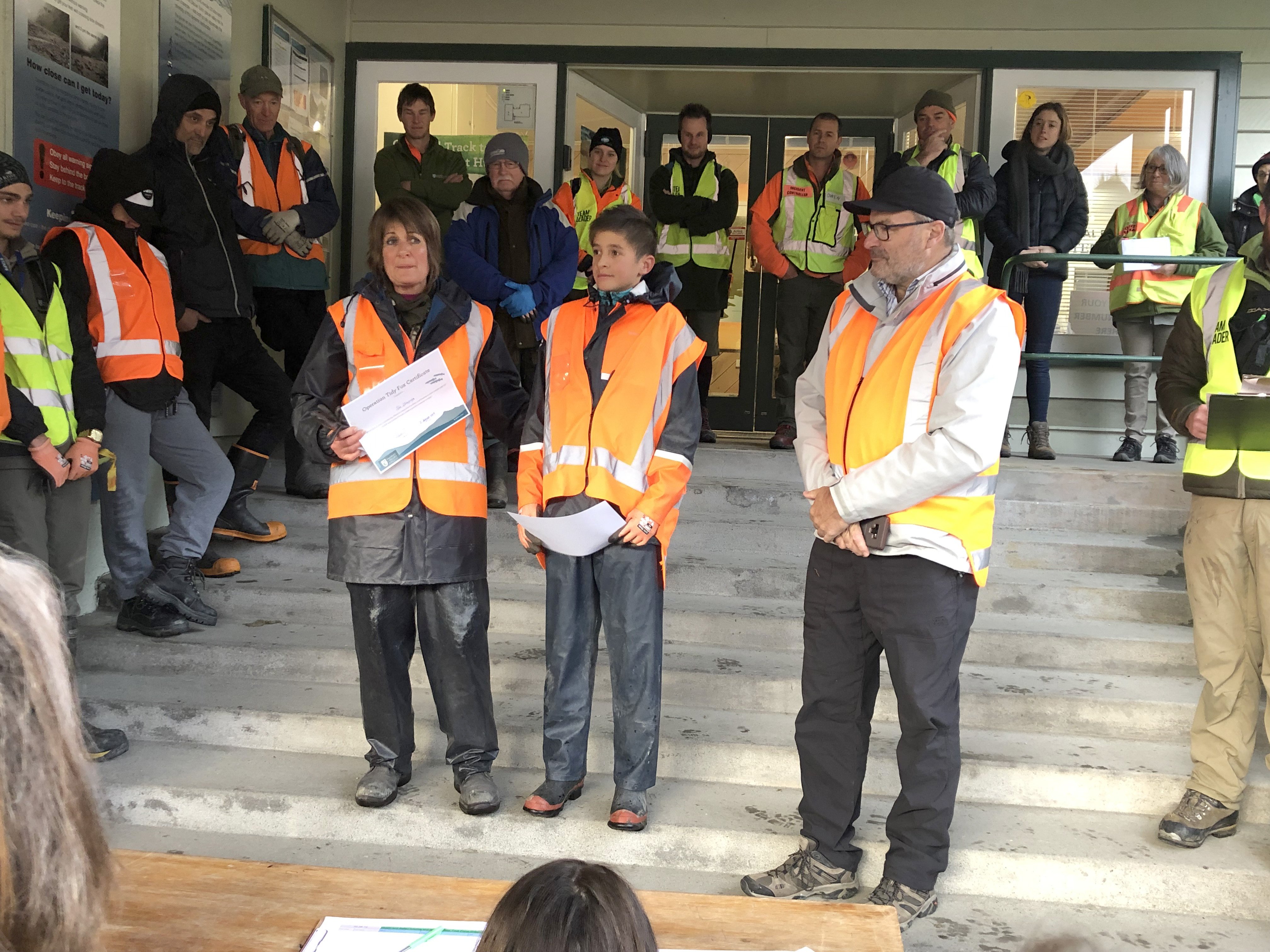 I knew I'd be capable of walking a few kilometres daily over rough terrain, but I wasn't so sure my back wouldn't embarrassingly go out on the first day. I promised to be kind to it.
It didn't take me long after arriving at Fox Glacier to realise I'd made the right decision. The welcome was warm, from fellow volunteers, my busy host at the Ivory Towers backpackers, and the woman who brought me my food at a local cafe. We happily discussed rabbits. She was about to take possession of a Flemish giant and agonising over what to call him. (I saw photos of the beautiful Trev later in the week.)
At the end of my first day, walking over rocks, a moment of inattention resulted in an undignified fall. A skinned knee and grazed arm were a reminder to be vigilant about the risks of the environment and added to the emphasis on behaving safely drummed into us at Doc briefings every day.
By my second day, the number of volunteers had risen to more than 100, and that day we filled 29 fadges (similar to wool bales) or 870 rubbish bags.
As we dug in the debris, filling our sacks mostly with plastic, much of it from bags of one sort or another, there was considerable trash talking. We hoped this awful event had been a wake-up call for better management of landfills. We reflected on our own behaviour and wondered if much had been achieved by banning the plastic shopping bag when there is so much other unnecessary use of plastic out there. For instance, do we need plastic bread bags? Some of us could remember when sliced bread came in waxed paper and unsliced bread was wrapped in brown paper tied with string. Should the Government be doing more to stop manufacturers producing polluting packaging?
My bugbear was single-serve butter/jam plastic containers. I lost count of how many of these superfluous items I picked up. Plastic lollipop sticks were the bete noire for one of my roomies, self-described nomad Gaileen Ross, formerly of Dunedin, who'd joined the clean-up in early July.
I could bore you with a list of what we found - from phone cards and vehicle registration stickers to a Southland Times from 1996 still in its plastic wrapper (maybe it wasn't worth reading), but the experience was about much more than collecting rubbish.
When I called home, my companion reckoned I sounded 20 years younger.
How do I explain that?
Was it something to do with spending every day in stunning scenery and working with others for a common purpose that made anything seem possible?
Maybe I had been infected by the energy and enthusiasm and generosity of the people I met, young and old.
A particularly welcome volunteer at Ivory Towers was long-time mutton birder Denis Wiremu Tipene, from Christchurch, who brought a supply of delicious titi with him and cooked it for us during his stint. Table manners were not to the fore as we slurped and sucked bones and eyed up each other's plates for any leftovers. A returning volunteer from Whangarei was particularly rapt as she reckoned she had put down titi and oysters as dietary requirements.
It was exhilarating being around such upbeat people from all parts of the country and beyond - superannuitants, beneficiaries, school pupils, young people between jobs, overseas tourists, working people taking time off to help.
As we scratched around in the silt, sometimes we also scratched beneath the banter; precious moments where we shared snapshots of our varied lives, with all their triumphs and tragedies.
As a jaded old journalist, whose experience of government agencies can often be adversarial, it was refreshing to see Doc and the defence force working so well together. If there were any tensions behind the scenes, they did not spill out to affect our experience. Local businesses' contribution to the care of the volunteers through their provision of food and accommodation was also impressive.
Most of our defence force contact was with the army contingent as we were driven to and from and over the riverbed in Pinzgauers - one driver always welcomed us to Air Pinzgauer, advising us to ensure our tray tables were up and to keep our seat belts on at all times because "there will be turbulence!"
How is it looking now?
Zone 1 (389ha): The removal of visible rubbish in the top 5km is complete. A further -sweep of the area will be undertaken to ensure all the rubbish has been picked up. This zone was the worst-affected area, containing most of the rubbish.
Zone 2 (924ha): The removal of visible rubbish in the lower 16km of river is 49% complete. This area is where the rubbish is more spread out and less dense.
Zone 3: 15.1km of the 64km of coastline has been cleared of visible rubbish. There is minimal rubbish along the coastline, but this varies with the changing tides and will continue to be monitored.
Some rubbish will remain buried below the riverbed, and rubbish that has already entered the sea will wash up on the beaches over time. 
The Westland District Council is responsible for the environmental effects of the landfill spill. The Department of Conservation will work with it to put in place a monitoring and clean-up programme to manage the effects of the rubbish spill over the medium to long term. 
— Source: DOC, as at August 6
We loved that turbulence and reckoned tourists would pay for the bone-shaking thrill of a Pinzgauer ride.
An unassuming soldier, who usually worked in army supplies, was in charge of washing and drying all 100-plus pairs of gloves daily, returning them to pairs and sorting them into sizes ready for us to collect in the morning. Even with an assistant, this was no mean feat. Our high-visibility vests were also washed as required. When I asked him if he was being punished, he said he had volunteered for the job. He seemed almost embarrassed to be thanked for his good work.
I could relate to that. We volunteers were frequently and effusively thanked for our contribution, but I know I was not alone in thinking I was gaining more than I was giving.
By the end of my fortnight with the operation, the volunteer input was being wound down as progress in clearing visible rubbish from the 5km stretch below the Fox State Highway bridge and equivalent to 555 rugby fields, had been much faster than expected.
On my last day we were joined by Doc director-general Lou Sanson. He said the response to the operation was humbling.
When he presented an emotional Sue Haupapa and her 12-year-old grandson Cody , from Taumaranui, with certificates to honour their three-week contribution to the cause, I was surprised to find tears sliding down my face too.
That day the weather was cold and miserable and a challenge to my waterproof gear. The decision to take us off the riverbed was made before lunch. As we waited to board Pinzgauers, some of the irrepressible young people used the time to perfect a dancing routine. I can understand why Lou Sanson has since described the half day he spent with us as one of his best with Doc.
On my return to Dunedin, I stopped at a supermarket. Clutching my reusable shopping bag, I noted a worker outside walking round and round a stack of plastic crates (containing who knows what) encasing them in layers of plastic wrap.
Reality's sharp fangs had burst my Fox River bubble.
Timeline of the Fox River dump disaster
• March 26: Heavy rain and floods on the West Coast cause Fox River to flood. State of emergency declared.
• March 31: Reports emerge  of rubbish being washed downstream and on to West Coast beaches.
• April 1: The Westland District Council says the waste was from an oldrubbish dump beside the Fox River which had become exposed and eroded in the floods.
• May 3: The Government announces an extra $400,000 to help West Coasters recover from the devastating March floods.
• May 28: The Westland District Council says it has run out of money for the clean-up.
• June 19: Doc takes  control of the operation from the Westland District Council and starts to recruit volunteers to the  effort. Group sizes start small, with 10-15  people signed up each day in the early phases of Operation Tidy Fox.
• July 8: The NZDF sends first wave of personnel and vehicles to the West Coast. During July a total of 130 NZDF personnel and 20 vehicles are deployed to support the clean-up. These include all-terrain Pinzgauers  and an A109 helicopter.
• July: Doc-led awareness campaign with word-of-mouth, social media and news media calls for assistance, encourages hundreds of volunteers to show up.  A total of 864 volunteers have been involved.
• August 8: Doc announces the volunteer effort will wind up on August 11.
—  Source: DOC