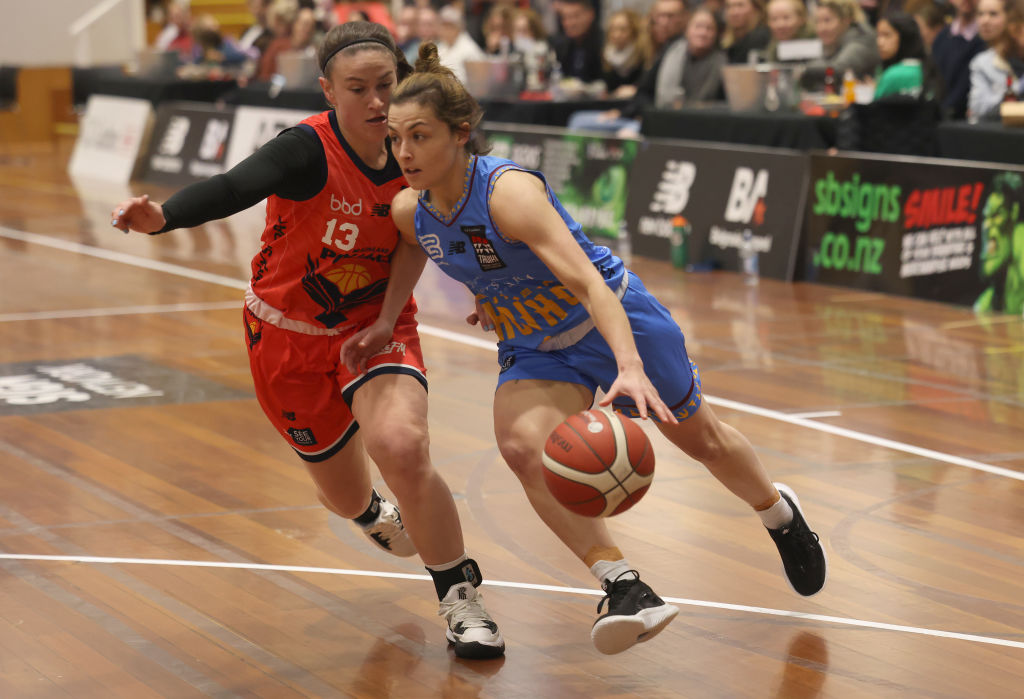 Tori Dugan is still pinching herself.
The Southern Hoiho import point guard admits New Zealand was not even on her radar this time a year ago.
She was getting ready for her final year at Lakeland College in Canada — a college career with enough obstacles that getting to the end was an achievement in itself.
There was a mental health dive in her first months, as she adjusted to life away from her Perth home.
There was an anterior cruciate ligament tear, a year off and another mental health dive, followed by a torn meniscus.
Yet, she came through it all and, in a way, it is what made her.
She began working harder than she had before and her final two years at Lakeland College were the most successful in the school's history.
A quick search of her name makes it clear she had become a beloved figure in the community, both on and off the court.
In her final year she was named national player of the year.
And it was that season which led her to Dunedin.
On Wednesday night she made her professional debut, as the Hoiho went down 73-63 to the Mainland Pouakai in Tauihi Basketball Aotearoa's inaugural game in Christchurch.
"I definitely couldn't have landed in a better situation," Dugan (25) said.
"I'm a massive believer that everything happens for a reason and I'm so glad it did happen. I know I've taken the steps and put in a tremendous amount of work to get here.
"I have to pinch myself, like 'Tori, you're a professional, you're in New Zealand, this is your job'.
"It's been awesome so far. I'm definitely proud of where I've come from and what I've had to do to get here."
But it is the team she said that comes first and that comes through in her game.
Dugan prides herself on her "bulldog mentality" on defence, while she has shown herself as an elite facilitator offensively.
Her leadership abilities have been widely recognised, while she admits to being highly competitive.
She credits her journey for much of that.
Dugan had gone to college as a "cocky" 18-year-old, thinking she was pretty good.
"I got put in my place real quick. I went over there and I was terrible. I was not good. I was nowhere near the physicality that the other players were.
"But also, my mental state, it wasn't where it needed to be. I felt sorry for myself. I'd cry every night and I'd call my parents saying I'm coming home."
Her parents were both heavily involved in basketball and convinced her to stay.
She went back for her second year, before taking a gap year to play for her hometown South West Slammers.
In her fifth game at home she tore her ACL.
Her college coach took her back, but a tough year followed.
"That whole year, you lose your identity," she said.
"I wasn't Tori the basketball player, I was Tori the red shirt person who hurt her knee in Australia.
"I went through a bit of an identity crisis. I put on a lot of weight that year, again to fit in, to find every excuse to fit in when you're not on the floor.
"Again, partying was that outlet. My mental health deteriorated."
She got an ultimatum from her coach — sort yourself out or you are not coming back next year.
"That was really hard for me, but the best thing he could have said."
The next year she tore her meniscus — but this time she played through and recovered in a much better way.
Her year back with the Slammers had not been all bad — she met now-Hoiho coach Charles Nix.
They kept in contact and, when he became Hoiho coach, he reached out to offer Dugan a contract.
The Hoiho will see the fruits of that tomorrow, as they host the Northern Kahu in their first home game at 12.30pm at the Edgar Centre.
Tauihi Basketball
EdgarCentre, tomorrow, 12.30pm
Hoiho: Laina Snyder, Tori Dugan, Shelby Cheslek, Zoe Richards, Samara Gallaher, Olivia O'Neill, Bronwyn Kjestrup, Nicole Ruske, Tyler Mitchell, Aleisha Ruske, Jay Maoate-Breen.
Kahu: Akiene Tera-Reed, Krystal Leger-Walker, Madison Wolf, Tahlia Tupaea, Jazzmyne Kailahi-Fulu, Ashleigh Kelman-Poto, Jaycin Tini, Olivia Berry, Micaela Cocks.