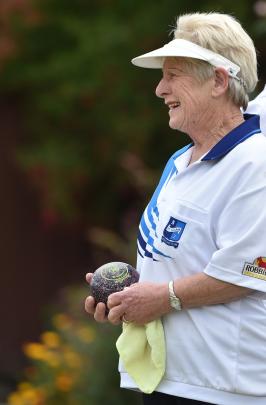 The new Bowls Dunedin Saturday morning women's sevens competition is lifting the standard and is expected to make the women's representative team more competitive on the national scene.
It was the brainchild of Dunedin women's selector Janet Swallow, who felt that female bowlers needed regular club competition to get ready for national events.
Sixteen teams entered the competition —  eight in division one and eight in division two.
"It's helping our women bowlers  become match-fit and lets us see who our best players are," Swallow said.
The format is based on the successful men's interclub sevens. Singles are played to 25 points, while the pairs and fours have 21 ends.
Some of the smaller clubs have difficulty filling teams but there is a simple solution to this by entering combined teams. Port Chalmers and West Harbour did this successfully in the men's Holmes Feathers last year to win their division and gain promotion.
Centre titles
Former New Zealand cricket representative Jan Hall (Green Island) won her first Dunedin centre title when she beat Carolyn Webster (St Clair) 21-11 in the open singles. Colin Hall, her father, won seven centre titles.
Geoff Wilson (Kaikorai) won his 15th title and gained a second bar for his gold star when he beat former international Shaun Scott (North East Valley) 21-7 in the men's singles.
Regan Larkin won his fifth title and gold star when Kaikorai beat Fairfield 17-10 in the open fours. It was the 11th title for skip Nigel Birkbeck, the second for Jonty Horwell and the third for Joe Gordon.
Mary Stevenson won her eighth title when Outram beat Fairfield 10-9 in the women's fours. It was the fourth title for skip Marion Hambleton, 11th for Cindi Ewart and sixth for Anne Warrington-Blair.
All-Queenstown final
The Queenstown combination of Christine Buchanan and Debra Lloyd beat club mates Margaret O'Connor and Jane Anderson 22-7 in the Central Otago open women's pairs. It was the 23rd centre title for Buchanan and 12th for Lloyd.
Alexandra's Trevor Drake and Steve Rabbette beat Gary McDonnell and Keith McIntosh (RSA) 19-6 in the men's pairs. It was Rabbette's fifth title and gold star and Drake's eighth.
Wanaka's Richard Muir and Alan Coop won the centre 1-5 year pairs title and Queenstown's Nancy Buchanan and Diane Brewer the women's junior pairs.
Howitt returns
Rugby News founding editor Bob Howitt returned to his old club of Takapuna to defend his title in the innovative two-day birthday tournament.
"On the first day you play a fours game of 1hr 50m, then split into two pairs," Howitt explained. 
"While the first pair plays, the second pair has lunch. The roles are then reversed and the day finishes with another 1hr 50m fours game.
"On day two the same format is used but the pairs have to change.  Each fours team has to include at least one member of the opposite sex."
Howitt, New Zealand's most prolific rugby writer, used his literary skills to describe Lindsay Thomas' second Central Otago title.
Queenstown's leading female bowler Christine Buchanan telephoned club-mate Thomas in October inviting him to play with her in the Central Otago mixed 2-4-2 pairs.
Thomas declined.
"I'm sorry," said the man everyone knows as Thommo, "but I'm building a house, in fact, I'm building two of them, and I'm out  of bowls until the new year."
Buchanan, who needed a fresh partner when her husband, Neil, was unavailable through injury, mused on this over a weekend, then phoned Thommo.
"Come on," she said.
"It's only two days and you don't have to travel far, because it's being run by our club Queenstown."
"Oh, all right," Thommo said, "just this one event."
It's history now that they beat Phil and Alyson Roxby (Hawea) in the final to give Buchanan her 21st centre title and Thomas his second.
Thommo has been true to his word and not played any bowls since, instead concentrating on completing the houses he is building  for himself and his wife, Linda, at Jacks Point and, right next door, for his son Tim.
"All going well, I'll be back playing bowls by the end of January," said Thommo, whose name features prominently on the Queenstown honours board and whose previous centre title was in the fours, five years ago.
Midyear, when it was too cold for building at Jacks Point, Thommo travelled to the Gold Coast and competed in the Australian open pairs with Alexandra's Trevor Drake.
North Otago men fourth
The North Otago men finished fourth with nine points in the annual northern quadrangular.  The other three teams finished level on 21 points. South Canterbury won on countback from Canterbury Country and Canterbury was third.
The best North Otago team was  the triples of John Smith (skip), Bill Kingan and Hugh Catto with two wins.
Canterbury won the development event with 24 points from  South  Canterbury 22,  North Otago 14 and Canterbury Country 12. The North Otago four of Peter Bell (skip), Brett Cairns, Mike McErlane and Bill Liddicoat won its three games.
Meadowbank win
Daphne Campbell won her 13th North Otago title and second of the season when she skipped her Meadowbank team of Mary Watson and Barbara Allan to a convincing 19-2 triples win over club-mates Aileen Blyth, Dorothy Breen and Lyn Liddicoat. It was Watson's eighth title and Allan's sixth.
The men's triples was won by Awamoa's Bob Mason (skip), Sonny  Brown and Bob Wilson, who beat Phoenix's Ian Pitches, Hugh Catto and Geoff Devlin  12-8.  It was Mason's sixth title, Brown's 14th and Wilson's 16th.
It was a switch of position for Wilson who played lead. In most of his titles he has skipped the team.
He won the national Tiger Turf event that was modelled on the Australian televised series, in the winter. It features three bowlers playing as a pair. His team-mates Bill Kingan and Peter Bell decided  that Wilson would be lead to consistently put bowls on the head and they would alternate as skip.
This tactic worked as the team won the Oamaru event, the regional finals at Invercargill and the national final at Auckland. All games were played on Tiger Turf artificial surfaces.
Wilson, a prolific run-getter in North Otago cricket in the 1970s, played two first-class games for Otago. This included the Shell trophy final against Central Districts at New Plymouth that Otago won on the first innings after Ian Rutherford scored 222.
Kaitangata wins sevens
Kaitangata will represent South Otago in the national interclub sevens, division 2, finals  at Auckland next March. Kaitangata won on the countback after being tied with Milton on 27 points. Finegand was third on 24 and Balclutha was fourth on 21.
Skip Bob McAuley won his 15th South Otago title and a second bar for his gold star when Balclutha beat Finegand in the open fours.
Blair Thomson won his 10th centre title and added a bar to his gold star, lead Brian Dodds his ninth title and John Sutherland his eighth.
McAuley and Blair Thomson reached the final of the open pairs when they beat club-mates Dodds and Neville Thomson 14-7. They will play Milton's Adam Wyber and Destry Pepper in February's final.Christine King (Balclutha) won her 32nd South Otago title when she beat Wynette McLachlan (Clinton) 21-18 in the women's open singles. McLachlan has won 33 titles.
McLachlan and Nola Anderson won the women's drawn pairs with 108 points from  Balclutha's Bonnie Cowie and Mary Collett  on 100 points.
After eight rounds, Balclutha Red and Clinton are tied on 12 points and top the women's interclub table. They are followed by Milton Gold 11, Clutha Valley 10, Milton Tartan 8, Waihola 8, Balclutha White 7, South Otago Town and Country 7, Milton Blue 5 and Kaka Point 0.
The honours
Centre titles
32 Christine King (South Otago).
30 (sixth bar for gold star): Margaret O'Connor (Central Otago).16  Bob Wilson (North Otago).
15  (Second bar for gold star): Geoff Wilson (Dunedin), Bob McAuley (South Otago).
14  Sonny Brown (North Otago).
13  Daphne Campbell (North Otago).
12  Debra Lloyd (Central Otago).
11  Nigel Birkbeck (Dunedin), Cindi Ewart (Dunedin).
10  (bar for gold star): Blair Thomson (South Otago).
9  Brian Dodds (South Otago).
8  Trevor Drake (Alexandra), Mary Watson (North Otago), Mary Stevenson (Dunedin), John Sutherland (South Otago).
6  Barbara Allan (North Otago), Bob Mason (North Otago), Anne Warrington-Blair (Dunedin).
5 (Gold Star):  Steve Rabbette (Central Otago), Regan Larkin (Dunedin).
4  Marion Hambleton (Dunedin).
3  Joe Gordon (Dunedin).
2  Jonty Horwell (Dunedin), Blair Thomson (South Otago).
1  (First title): Jan Hall (Dunedin).