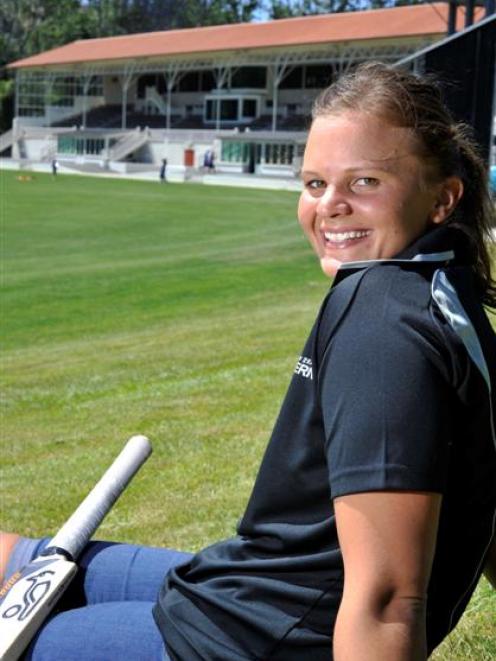 New White Ferns captain Suzie Bates had to think long and hard before she accepted her promotion earlier this month.
The talented all-rounder also has a flourishing basketball career to consider and is not ready to give it up just yet.
But the 24-year-old dual international has made a commitment that cricket will come first. It is a decision she been putting off making since emerging as a precocious teenager.
"I knew saying yes would mean I couldn't just flitter off to play basketball like I have in the past," Bates said.
"That did come into consideration. Also whether I was ready or not was part of the decision process. But it was too good an opportunity to say no and we'll have to see what happens with basketball."
As an all-rounder, Bates just had to show up and concentrate of bowling her allotment of overs and scoring runs. As captain, there is a lot more to think about.
For a start, she will help pick the team along with coach Gary Stead and vice-captain Amy Satterthwaite. Then there are all those on-field decisions to be made like who fields where and who should bowl next.
It is a demanding role and the responsibility can also impact on personal performance.
"That was one of the biggest reasons why I was a little apprehensive. I still don't feel like I'm at the top of my game and I knew the responsibility might hinder my performance.
" But it is a matter of realising that when I'm out there batting that is my job, and it is the same with bowling," she said.
Around the same time Bates agreed to captain the White Ferns, the Tall Ferns secured funding from Sparc which will allow the team to push its Olympic bid through the repechage tournament in Europe next year.
Bates, who competed at the 2008 Olympics with the Tall Ferns, is unsure what part, if any, she can play in the repechage campaign.
"It all happened at once and I haven't thought too much about it. But it will probably be too difficult."
"I've been so lucky that it has panned out the way it has and I couldn't have asked for it to work out better. I have loved basketball and I'm not going to say I won't play again but cricket is my priority at the moment."
Bates is sharing the captaincy duties for the Sparks this summer. She leads the side in the one-day tournament while Katey Martin takes the reins in the twenty/20 competition.
The Sparks have lost their opening six games. That result is not completely unexpected with experienced pair Sarah Tsukigawa and Clare Taylor retiring at the end of last season, and legspinner Emma Campbell deciding to take a break from the sport.
"It is tough losing. But the loss of Sarah Tsukigawa and Clare Taylor's been massive. They are so experienced and just their all-round ability has left huge gaps.
"I thought we played really well in the first round; it is just that Wellington had too much depth. And no batter scored runs in Auckland. Hopefully, we'll get better each game and get a few wins."