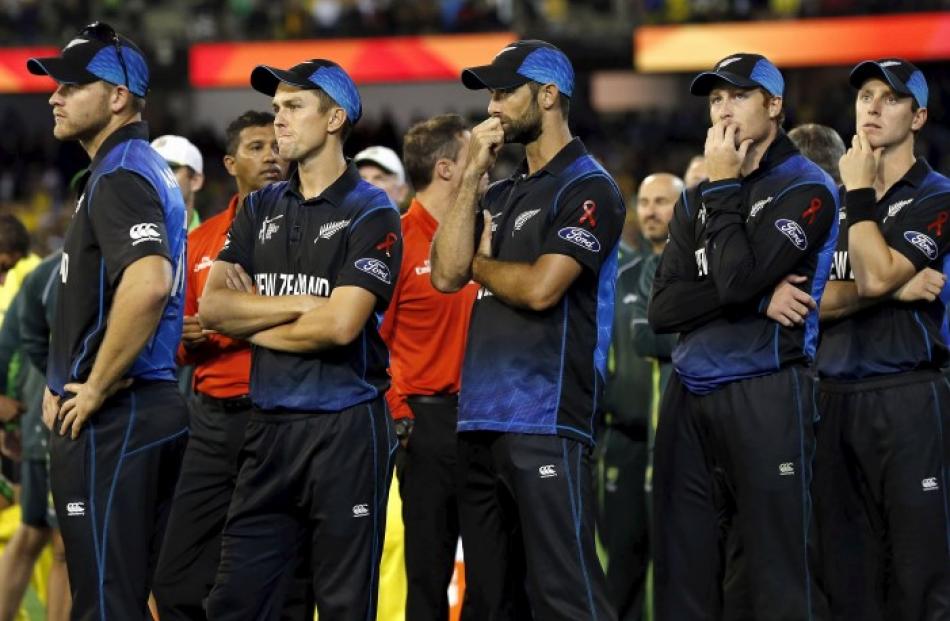 New Zealand cricket fans probably muttered to themselves something like ''it's going to be OK, it's going to be OK'' when Brendon McCullum was bowled for a duck in the opening over of the World Cup final.
And it is going to be OK.
But the Black Caps' bold bid to win the tournament came unstuck in Melbourne last night.
Australia dominated the match, overhauling New Zealand's total of 183 with seven wickets and more than 16 overs to spare.
It was not the dream ending New Zealand had hoped for, however the past six weeks have been marvelous.
And as hollow as it feels at the moment, the Black Caps can reflect on an extraordinary campaign where they won all six Pool A matches, dispatched the West Indies in the quarterfinal, and upset a talented South African side in an incredible semifinal that has been billed one of the greatest games played.
McCullum certainly has no regrets.
''It has been one hell of a ride,'' he told the commentary team after the final.
''I think we've played some outstanding cricket but we ran into an outstanding Australia team tonight who continue to set the way in international cricket.''
''I still thought at 180 we dared to dream. If we had had a couple of things go our way, who knows what we would have ended up with.''
It is worth pointing out the series score with Australia during the cup campaign is 1 1, so surely there is a decider to be played at Eden Park later this week, right?
While the Black Caps have to settle for second, opener Martin Guptill finished the tournament as the leading scorer, with 547 runs at an average of 68.37, including an unforgettable unbeaten double century in the quarterfinal.
Left armer Trent Boult was the joint leading wicket taker, with 22 wickets at an average of 16.86. His new ball partner Tim Southee's seven for 33 against England was an act of genius.
Grant Elliott was a revelation and his six off Dale Steyn to seal a dramatic four wicket win was pure theatre, as was Daniel Vettori's gravity defying catch to dismiss Marlon Samuels.
But it was McCullum who had us off our feet more than anyone else. And that is why it was such a gut blow when player of the tournament Mitchell Starc bowled him with a cracking inswinging yorker so early in yesterday's game.
A fabulous 111 run partnership from Elliott (83) and Ross Taylor (40) helped the visitors wrestle back some parity.
But all rounder and man of the match James Faulkner wiped out all that good work with two wickets in three balls during the first over of the batting power play and the Black Caps never recovered.
Victorious captain Michael Clarke, who top scored with 74 in his final ODI innings, congratulated the Black Caps on ''a wonderful tournament''.
He thanked the record crowd of 93,013 but saved the warmest praise his team.
''... the guys were ready for tonight and played really well again,'' Clarke said.