A new chapter is set to begin in the rich history of Lancaster Park this weekend.
The iconic sports ground was demolished after the Christchurch earthquakes but a new version of the park has risen from the ashes and will be officially opened at a ceremony on Sunday.
Since its first event - an athletics meeting - on October 15, 1881, Lancaster Park has been the scene of many sporting triumphs and defeats.
Athletics, cricket, hockey, tennis, squash, cycling, trotting, and all varieties of footy have all taken place there.
In the early years, there was even a swimming pool in the park where swimming championships were held and water polo played.
The park has also hosted carnivals, fairs, Royal and Papal visits, and rock concerts.
Its reign as the home of sport in Christchurch came to a crushing end 11 years ago when the quakes damaged the stadium beyond repair.
But with all signs of the old stadium now gone and Lancaster Park transformed back into fields of green, it is ready once more for footie boots and referee whistles, cricket bats and umpire calls.
"This is the start of a new chapter for Lancaster Park," said Andrew Rutledge, Christchurch City Council head of parks.
"This is going to be a place where community-level sport is played and where young kids will get their first taste of competition and start their sporting journey.
"It's going to be a training ground, a match ground, and a gathering ground for the community."
In winter, the sports fields will be used for rugby and football. In summer, cricket will be played.
The fields are surrounded by a perimeter pathway and public open spaces.
Lancaster Park's Memorial Gates, which were built in Stevens St in 1924 to commemorate the sacrifice of Canterbury athletes during World War 1, have been retained and their restoration is currently under way.
Work is also under way to ensure the history of Lancaster Park is never forgotten.
Reminders of the past are being put in place around the park so that people can see and hear about its history.
Rutledge said there has been a shortage of open spaces in the Charlesworth area and significant demand in the south-east of the city for more access to sports fields.
"Through redeveloping Lancaster Park we've been able to address both issues and give the local community a great park that is steeped in history and a special part of the fabric of Christchurch.
"This place has long been associated with Canterbury sport and it's sporting heroes.
"I have no doubt that a future sporting hero's career will emerge from the reborn Lancaster Park.
"It's fantastic to know there is a whole new generation of kids who will play their first rugby, football and cricket matches here and that the local community will be able to relax and enjoy themselves here," Rutledge says.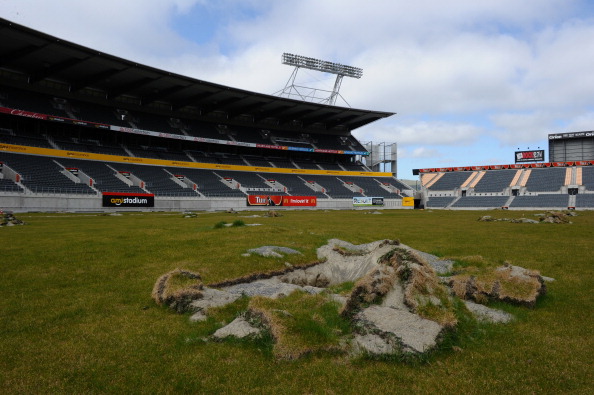 The redeveloped Lancaster Park will be blessed and then officially opened by Mayor Lianne Dalziel at 9.30am on Sunday morning.
The ceremony will be held at the Stevens St entrance.
Following the ribbon-cutting, junior cricket, rugby and football players will get to run onto the newly grassed fields for the first time.
The community are welcome to attend the ceremony, Rutledge said.
Parking will be available on Lismore St, Wilsons Rd North and Stevens St.
Lancaster Park has been the scene of a number of record making events:
1888 Cyclist Fred Wood set a world record for a quarter-mile on grass.
1935 Betty Snowball set a world record for the highest individual innings in women's cricket, which stood for 50 years.
1952 Bert Sutcliffe set the highest ever cricket score by a New Zealander.
1962 Peter Snell set running world records in 800 metres and 800 yards.
1973 Glenn Turner became the first New Zealander to get a century in each innings of a cricket test.
1987 Pat Carrick became the first woman to umpire a first-class cricket match.
1990 Richard Hadlee became the first cricketer in the world to take 400 test wickets.
2002 Nathan Astle achieved the fastest-ever double century in cricket.