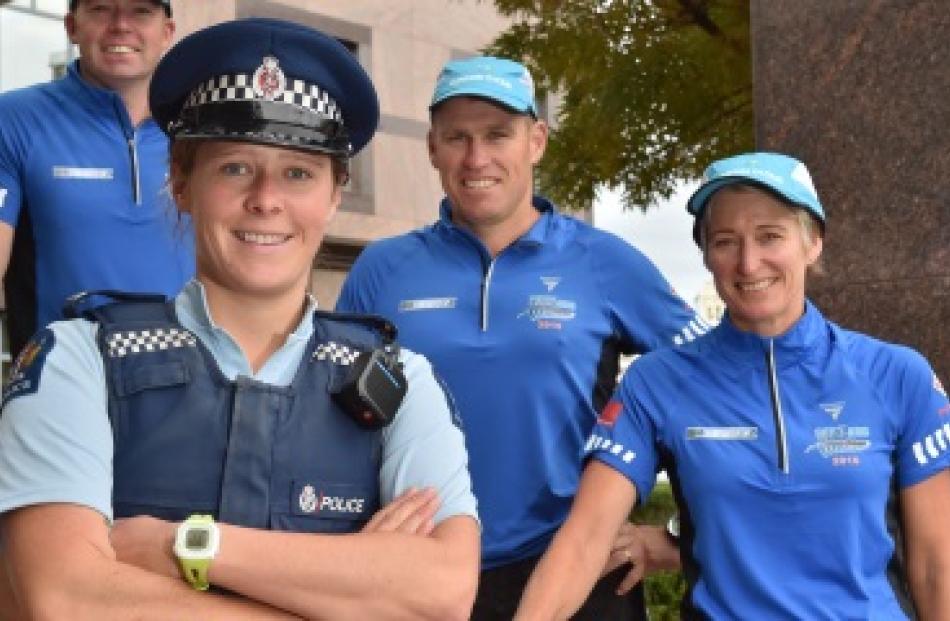 The fuzz will be on the beat in unfamiliar territory starting on Saturday.
Dunedin police officers Hugh Tait, Nathan White, Amie Manning and Tracey Bransgrove are entered in the fifth edition of adventure race GodZone.
They have called themselves Hot Fuzz and face a challenging 540km course, which includes an ascent of about 10,000m, in the Tasman district.
Hot Fuzz and 60 other teams are entered in the main event, in which all teams will go unsupported and have a maximum of seven days to complete the course.
There are also 10 teams entered in the new supported event, which starts a day later and will feature organisers moving all equipment around the course for the teams.
Competitors will not be given the course map until the morning of the start of the race, and can only use a compass to navigate it.
Hot Fuzz does bring some experience into the event - only White has not entered in the past.
Manning is the most experienced, having entered the Mt Cook event in 2012 and last year's Wanaka edition.
Tait also did the Mt Cook event, while Bransgrove was in a different team to Manning in Wanaka last year.
Manning and Bransgrove are both hoping for better weather this year than a year ago, when three days of rain hindered competitors.
''It was a tough race because it rained for three days and it was terrible conditions,'' Bransgrove said.
But regardless of the weather, the team is expecting nothing but a difficult week which will at times make them ''hate life''.
While organisers have hinted at less trekking than in previous editions, there is expected to be plenty of kayaking, canoeing and mountain biking. The course will also cover sections of open water at sea, which will more than test competitors due to the wind, waves and currents.
Hot Fuzz decided it would enter this year's event about year ago, giving it plenty of time to train for what could be up to seven days competing. If the team members have not been venturing out on long walks or rides, they have been getting as much kayaking under the belt as possible.
But one thing they have not been able to test, because of clashing work shifts, is teamwork, which will no doubt be under pressure once the race starts.
''There will be tears,'' Manning said.
''We will hate life, and that's when your team helps you out. Everyone will have a turn thinking that it sucks, but just eat some more chocolate and just help each other through.
''It's the hardest but the best week.''
Navigation will be the most important aspect of the week. Teams are required to cross checkpoints by a certain time to avoid falling out of contention and finishing the race as an unranked team.
Only three teams finished the full-length course last year in Wanaka, but organisers are hoping at least 50% of teams complete this year's event.
Teams can decide when to stop to rest and sleep, but Bransgrove said it was important to make the most of daylight.
''From past experience, we've always put the tent up at 3am and got up again at 6am,'' she said.
''It's amazing how you keep going. It's amazing how three hours of sleep and you're away again. The hardest thing is the cold and getting into wet gear.
''Having a pile of wet, muddy clothes and putting them on again.''
Eating good food and avoiding relying on energy gels was also important to keep going, she said. Hot Fuzz plans to go out strong in the first few days, while remaining ''navigationally smart'' in a bid to reach the checkpoints in time and remain in the race.
The top teams are expected to finish the course in three to four days.