It was New Zealand gold, America silver - times two - at the Challenge Wanaka half-triathlon on Saturday.
Wanaka's Braden Currie cruised home 2min 45sec ahead of American Andrew Starykowicz in the men's event, and Hannah Wells, of Tauranga, finished a clear 1min 7sec ahead of American Meredith Kessler in the women's event.
The Challenge does not now include the full-length 226km race, and competitors focus instead on distances of 1.9km for the swim, 90km for the cycle leg and 21.1km for the run.
Both Currie and Starykowicz have their eye on the full-length Ironman event in Tauranga in March which is a potential gateway into the 2019 Ironman World Championship in Hawaii in October.
Currie finished 30th in that event in 2017.
Conditions in Wanaka on Saturday were cool and calm as 2500 competitors lined up at dawn for the swim around the Lake Wanaka course.
Starykowicz said he did not have a great swim start, but cycling was his strong suit and he opened up a reasonably good lead on the circuit to West Wanaka and back and then to Lake Hawea and Luggate.
He thanked the volunteers who made the event happen and said he was "very envious" of Currie having a home win, something that still eluded him.
"I know how much this must mean to him.
"I'm proud for him and I'm going to kick his butt in two weeks."
Currie joked the American was already "talking it up" for the Ironman.
"Not surprised.
"He'll want to try to draw some blood, but we'll see what happens."
Currie said he was not feeling "that great" before the race.
He finished the swim about 1min behind Dylan McNeice, of Christchurch, who led the field at that stage.
Currie finished the cycle leg two and a-half minutes behind Starykowicz.
Starykowicz's "flying start" on the bike had "worried him a bit" but he considered it a good sign he lost nothing during the second half of the cycle leg.
"Once I got into the run, I got really comfortable and I just sort of held my pace and conserved what I could.
"Pretty much the last eight kilometres of the run I got to turn it down a little bit."
Australian Matt Burton finished 4min 21sec back in third place, Jack Moody was fourth and Dylan McNeice, who is returning from injury, was fifth.
Challenge Wanaka claims to be the most scenic triathlon in the world and 40-year-old Kessler joked that was part of the reason she finished second in the women's event.
"I did take 30 seconds to just look at the beauty when I was racing, so that's why I lost."
She said she was not a "trail runner" and had been training on a treadmill at home in Ohio because of the harsh winter.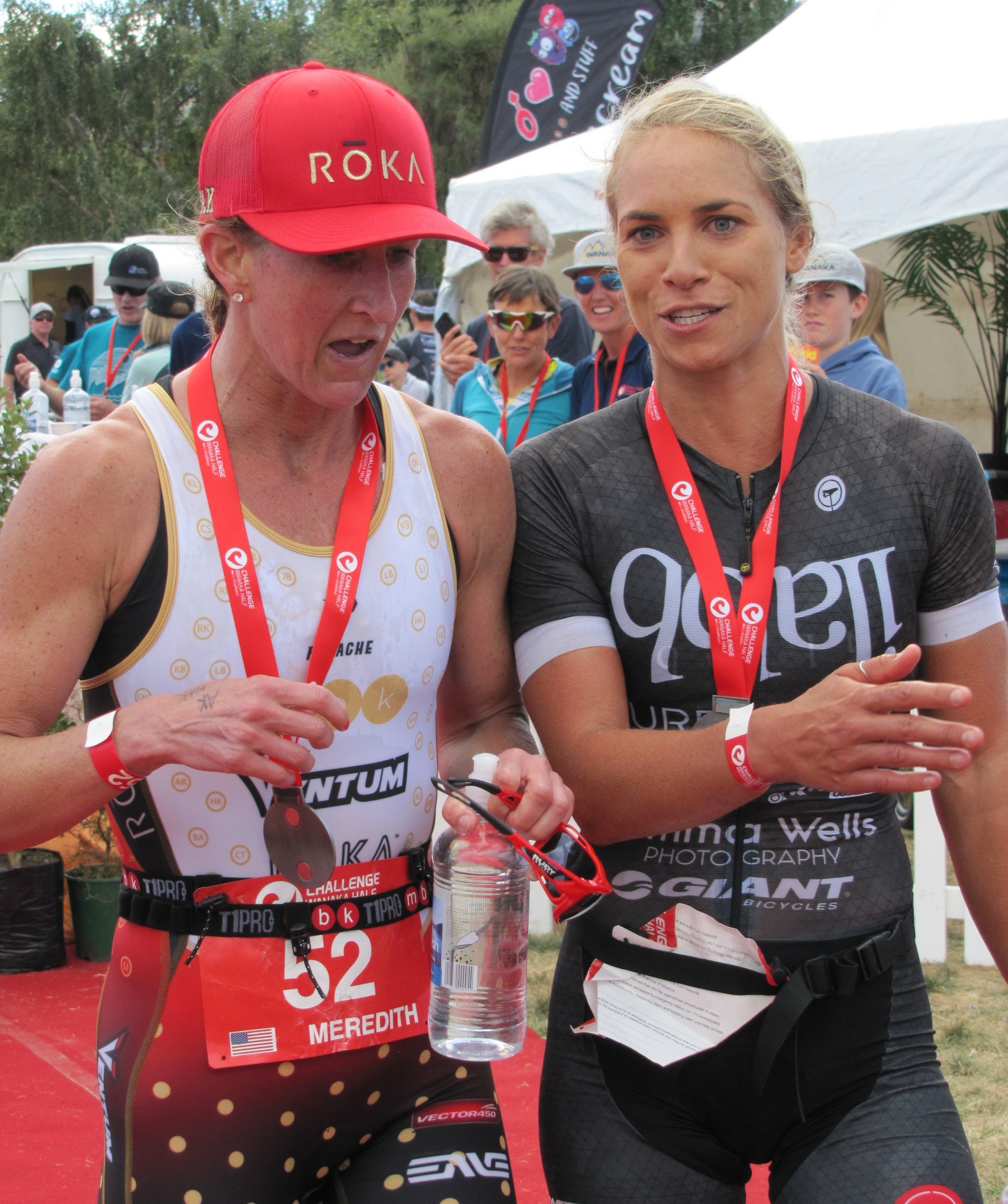 Wells was behind Kessler on the cycle leg, riding "quite conservatively".
But the two athletes came together on the run and Wells thought she had lost it when Kessler took a 10sec lead.
However, by the 14km mark, that had turned around and Wells held a nine-second lead.
The plan had been to "put the hammer down" at that point, and she finished strongly, securing her second half-triathlon win in just over a month.
Laura Siddall, from the United Kingdom, was 5min 26sec back in third place.