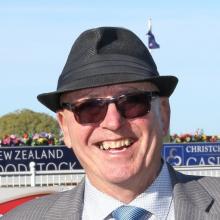 Riccarton trainer Kevin Hughes is hoping a much calmer version of his classy mare, Emily Margaret, fronts up at Riccarton today.
Hughes, who trains the 4yr-old with wife Pam, could only watch on in angst when Emily Margaret became fired up and raced fiercely for rider Robert Hannam in the group 3 Canterbury Breeders Stakes at the New Zealand Cup carnival.
Despite doing everything she could to beat herself and racing four-wide without cover, the mare kept going well enough to finish sixth, less than three lengths from winner Ticket To Ride.
"Robbie couldn't hold her and she looped the field. It was a total disaster – that wasn't supposed to happen.
"The last 100m she picked herself back up and threw herself in to it again, so I was pretty pleased with the effort."
Hughes gave Emily Margaret time to recover from that run before setting the mare for a tilt at the Manawatu Challenge Stakes at Awapuni in three weeks.
Today's 1200m open handicap will provide the Pins mare with a vital hit-out before her 1400m group 2 target later this month.
Although race 8 today is not her main target, Hughes said Emily Margaret could still win if the race panned out in her favour.
"I will be happy with her if she can hit the line strongly.
"There should be plenty of pace on, which should give her a chance to settle, then she can rock on home.
"Don Carlo is not a bad horse, he flies, and he could set up a nice pace that could help her.
"She is very bright and she is on top of the world, but the track could be a bit firm and the race could be a bit short for her."
The Riccarton track was rated a dead4 yesterday. The fine day with a 26deg high could see that rating improve by race time this afternoon.
Don Carlo goes into today's event after finishing seventh in the Pegasus Stakes during the New Zealand Cup Carnival.
The 6yr-old set a strong pace before fading and being passed by two of his rivals in today's event.
Pippi Rea finished third in the listed feature, Killarney running fourth.
Well-travelled galloper Enzo's Lad strikes his best chance to return to form for some time in today's race.
The Michael and Matthew Pitman-trained sprinter finished last in the Stewards Handicap at the New Zealand Cup Carnival in his first start since his northern hemisphere campaign.