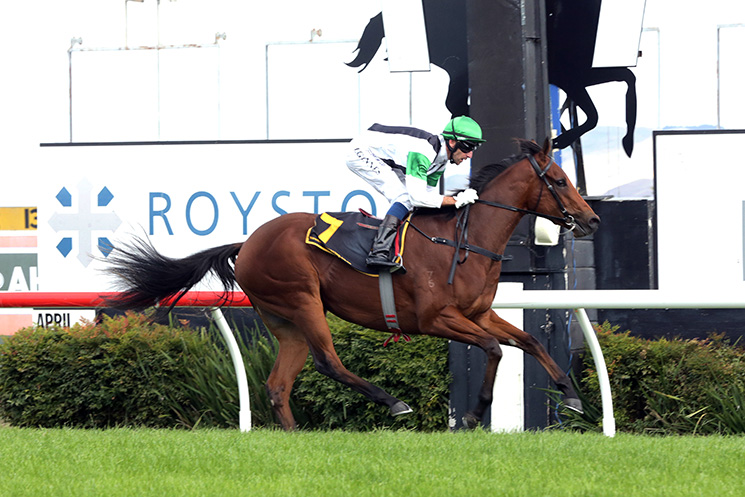 Cambridge trainer Tony Pike hopes Kali's bad luck will be over once the gates open for today's group 3 Barneswood Farm Classic at Ashburton.
The 3yr-old goes into the race following a desperately unlucky run in which she was denied any clear racing room in the Gold Trail Stakes at Hastings last month.
That came after the filly also struck trouble in the straight in her prior run at Hastings, and was promoted to winner.
Kali's run of bad luck continued when she was handed the widest possible barrier in today's 1400m feature.
Rider Leith Innes has the task of picking an economical path for the 3yr-old from gate 14 today.
"It is obviously not ideal, but she is a quality filly who has been badly held up in her last two starts from good gates," Pike said.
"When the draw come out I thought well, she is not going to get held up from there.
"She will push forward from that bad barrier and she will take up a position in the first three or four runners."
Kali is away from home for the first time on a mission to run in the One Thousand Guineas at Riccarton.
She has arrived in the south in excellent order and has been unfazed by her trip.
"She went down early Wednesday morning and she has fitted in really well," Pike said.
"She has eaten up through the week and she seems nice and bright."
Pike can go into today's race without any concern about whether his filly is handling her step up to 1400m.
But that is not the case for some of his rival trainers.
Kali already has a 1300m win to her name, and has the look of a filly that could go further.
"She has probably been crying out for a little bit further.
"The 1400m should be ideal for her," Pike said.
Kali opened favourite for today's race at $3.30 on Wednesday, easing to $3.50 later in the week.
Pike also combines with Innes with Boundtobehonored in rating 72 company over 1400m today.
She has also drawn the widest possible gate in barrier 18.
"She is coming down with Ellerslie form, which is always good," Pike said.
"It is obviously up to Leith what he does from that gate.
`As long as she is not posted too deep, she should be a good winning chance."